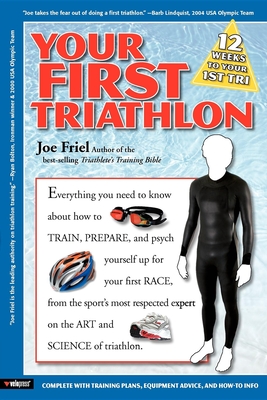 Your First Triathlon (Paperback)
Velo Press, 9781931382854, 223pp.
Publication Date: May 1, 2006
* Individual store prices may vary.
Description
Your First Triathlon is the best-selling book for beginner triathletes because it makes preparing for sprint triathlons fun and easy. This clear and comprehensive book prepares aspiring triathletes for the challenge of their first tri through a simple, 12-week training plan that requires fewer than 4 hours a week. By race day, you'll have the confidence and fitness to enjoy your first triathlon: swimming a half mile, riding a bike 12 miles, and running 3 miles.

Your First Triathlon offers a 12-week training plan for total beginners as well as custom plans for athletes already experienced in swimming, cycling, or running. The easy-to-use plans include achievable swim, bike, run, and optional strength workouts that will slowly but surely build you into a triathlete. As you build endurance, Joe Friel's technique workouts will improve your speed and efficiency. Helpful tips will ensure you'll know how to handle problems like a flat tire, soreness, and how to navigate questions about etiquette in the pool or on a group ride or run.

Joe simplifies the complexities of the swim-bike-run sport with his smart advice on gear, how to prepare a transition area, finishing a stress-free swim, and ensuring that race day goes as planned. Joe offers tips on choosing a beginner-friendly triathlon and then walks you through your entire race week covering packet pickup, knowing the course, the pre-race briefing, what to eat for breakfast, check-in and body marking, how to set up your transition area, warming up, what to do in unexpected weather, a smart race plan, and what to do after you've finished your first triathlon.

Joe Friel is the coach experienced triathletes trust most. His book The Triathlete's Training Bible is the best-selling resource in the sport and now his trusted advice is available to help you enjoy your first triathlon.

About the Author
Joe Friel's Training Bible Coaching company is one of the most respected and successful in endurance sports. Joe has been training endurance athletes since 1980, including national champions, world championship contenders, and Olympic athletes in road cycling, mountain biking, triathlon, and duathlon. Joe is an elite certified USA Triathlon and USA Cycling Coach and holds a master's degree in exercise science. Joe's writing has appeared in dozens of national and international magazines, newspapers, and websites. Joe conducts training and racing seminars around the world and online and provides consulting services for corporations in the fitness industry. He has also been active in business as the founder of Ultrafit, an association of coaching businesses, Training Peaks, a web-based software company, and Training Bible Coaching. More information on Joe is available at TrainingBible.com and at his blog.
Praise For Your First Triathlon…
"Any new triathlete would greatly benefit from this book, and if you were to buy just one book for your first triathlon, this would be the one!" — TriNewbies.com
"Joe takes the fear out of doing a first triathlon." — Barb Lindquist, 2004 USA Olympic Team
"If you are looking to get off to a great start in this sport, you have come to the right place!" — Siri Lindley, Triathlon World Champion
"Whether you're a beginning triathlete or a seasoned pro, Joe Friel is the utmost authority on triathlon training." — Ryan Bolton, 2000 USA Olympic Team
or
Not Currently Available for Direct Purchase