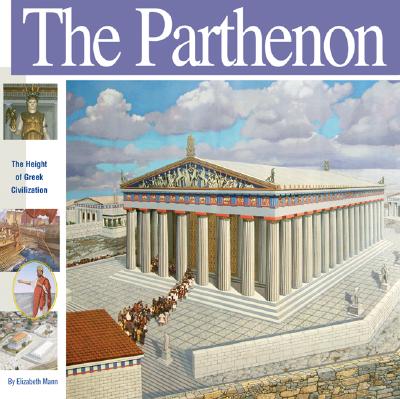 The Parthenon: The Height of Greek Civilization (Hardcover)
The Height of Greek Civilization
Mikaya Press, 9781931414159, 47pp.
Publication Date: October 9, 2006
Description
The story of an inspired building and an inspirational civilization.
The Parthenon is more than a magnificent building. Every marble statue, every graceful column, is an expression of a civilization whose three great values still speak to us today:
Democracy. At a time of godlike rulers, ordinary citizens voted to build the Parthenon.
Humanism. The Parthenon's art honored Athens' water carriers as well as its gods.
Balance. The Parthenon's aesthetic brought lightness and grace to height and mass.
The Parthenon tells of the rise of Athens -- from the religion that nurtured it, through the wars that tested it, to the democracy that ennobled it -culminating in the construction of the great temple on the Acropolis. The book not only captures the human stories, but also vividly illustrates the technical details behind the construction, from quarrying of the marbles to carving of the exquisite frieze. To look at the Parthenon is to see Athens. To see Athens, is to see ourselves.
Wonders of the World series
The winner of numerous awards, this series is renowned for Elizabeth Mann's ability to convey adventure and excitement while revealing technical information in engaging and easily understood language. The illustrations are lavishly realistic and accurate in detail but do not ignore the human element. Outstanding in the genre, these books are sure to bring even the most indifferent young reader into the worlds of history, geography, and architecture.
"One of the ten best non-fiction series for young readers."
- Booklist
About the Author
Elizabeth Mann has written nine Wonders of the World books, an award-winning series. She is former teacher in New York, holds an M.S.E. and is cofounder of Mikaya Press. Yuan Lee holds both an MA in art history and an MFA in illustration. His paintings have appeared in books and magazines, and on UN stamps.
Advertisement