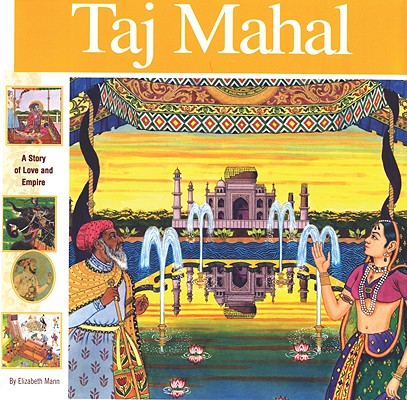 Taj Mahal: A Story of Love and Empire (Hardcover)
A Story of Love and Empire
Mikaya Press, 9781931414203, 48pp.
Publication Date: October 8, 2008
Description
The Magnificent Mughals of India.
Shah Jahan, ruler of India, murdered three of his brothers in his bloody rise to power. Yet when his beloved wife, Mumtaz Mahal, suddenly died, the grief-stricken emperor built the world's most beautiful tomb as a monument to her memory.
Shah Jahan was the fifth emperor of the Mughal dynasty. The Mughals combined the brute force and fierce ambition of their legendary ancestor Genghis Khan with a delicate artistic sensitivity. Theirs was a world where even forts were architectural gems, where emperors had their life stories told in exquisite miniature paintings, and where each new ruler competed with the previous one by building a grander palace, fort, mosque and city.
The Taj Mahal tells the story of this remarkable dynasty through its greatest artistic achievement. From the soaring domes, to the marble columns inlaid with precious gems, to the vast gardens, to the perfect symmetry of its design, the Taj Mahal expressed the power, grandeur, glory and beauty of the Mughal world.
About the Author
Elizabeth Mann is the author of 11 Wonders of the World books, cited by Booklist as one of the ten best series for young readers. Alan Witschonke has illustrated five Wonders of the World books.
Advertisement