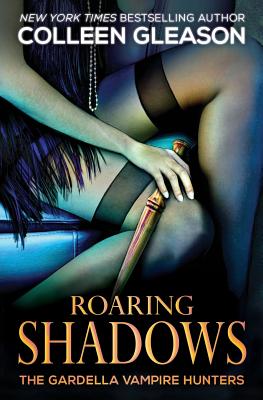 Roaring Shadows
Macey Book 2 (Gardella Vampire Hunters #8)
Paperback

* Individual store prices may vary.
Description
The saga of Macey Gardella continues in the second volume of award-winning, New York Times bestselling author Colleen Gleason's Roaring Trilogy...
In the dark underworld of Jazz Age speakeasies and gangsters, Macey Gardella finds herself caught up in a dangerous alliance with Al Capone. The murderous crime boss squires her about Chicago, showing her off as his moll while she struggles to fulfill her duty hunting the undead on the midnight streets.
She's learned the brutal lesson of loss and betrayal that comes to those who live out the legacy of the Venators, walking away from her friends, co-workers, and even Grady--the intrepid newshawk who seems to dog her every movement.
But when the worst comes to pass, and the powerful Venator alliance of Sebastian Vioget, Chas Woodmore, and Macey herself stumble in the face of the insidious evil of Nicholas Iscariot, even Macey has cause to question her motives and decisions.
And when the ultimate sacrifice must be paid, who will remain to wield the stake--and who will walk away?
Praise for The Gardella Vampire Hunters:
"...turns vampire stories--and romances--on their ear." --The Detroit News

"With its wonderfully witty writing, action-infused plot and sharply defined characters, Rises the Night is deliciously dark and delightfully entertaining." -- The Chicago Tribune

"A tense plot line and refreshingly diverse supporting characters complete the package, giving series fans plenty to sink their teeth into--and plenty more to look forward to." - Publishers Weekly

"...Heart-stopping scenes and sexual tension. With numerous twists, Gleason] leaves you hanging, eagerly awaiting the next installment." - Romantic Times
Avid Press, LLC, 9781931419819, 274pp.
Publication Date: August 30, 2015