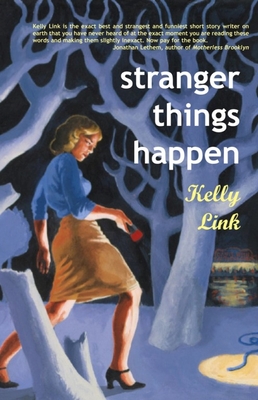 Stranger Things Happen
Stories
Paperback

* Individual store prices may vary.
Description
This first collection by award-winning author Kelly Link takes fairy tales and cautionary tales, dictators and extraterrestrials, amnesiacs and honeymooners, revenants and readers alike, on a voyage into new, strange, and wonderful territory. The girl detective must go to the underworld to solve the case of the tap-dancing bank robbers. A librarian falls in love with a girl whose father collects artificial noses. A dead man posts letters home to his estranged wife. Two women named Louise begin a series of consecutive love affairs with a string of cellists. A newly married couple become participants in an apocalyptic beauty pageant. Sexy blond aliens invade New York City. A young girl learns how to make herself disappear.
These eleven extraordinary stories are quirky, spooky, and smart. They all have happy endings. Every story contains a secret prize. Each story was written especially for you.
Stories from Stranger Things Happen have won the Nebula, Tiptree, and World Fantasy Award. Stranger Things Happen was a Salon Book of the Year, one of the Village Voice's 25 Favorite Books, and was a Firecracker Award finalist.
Small Beer Press, 9781931520003, 266pp.
Publication Date: July 1, 2001
About the Author
Kelly Link is the author of two collections, Magic for Beginners (chosen as a 2005 Best Book by Time Magazine, Salon.com, and Book Sense) and Stranger Things Happen. She is the editor of the anthology Trampoline. She and her husband Gavin J. Grant started Small Beer Press in 2000.