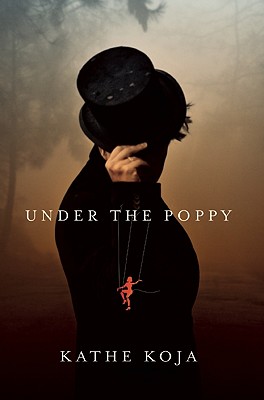 Under the Poppy (Hardcover)
a novel
Small Beer Press, 9781931520706, 300pp.
Publication Date: November 1, 2010
Other Editions of This Title:
Paperback (10/9/2012)
* Individual store prices may vary.
Description
Love: it's a triangle. War: is coming. Betrayal: is inevitable. Sex: watch out for the naughty puppets.
About the Author
Kathe Koja's books include "The Cipher, Skin, " and "Extremities"; YA novels include "Buddha Boy, Talk, Kissing the Bee, " and "Headlong." Her work has been honored by the ALA, the ASPCA, the Parents' Choice Award, and the Bram Stoker Award for Best First Novel. Her books have been published in seven languages, and optioned for film. She's a Detroit native and lives in the area with her husband, artist Rick Lieder, and their cats. "Under the Poppy" is currently being adapted for the stage.
Praise For Under the Poppy: a novel…
"The brothel of Kathe Koja's Under the Poppy requires no time and space coordinates. It is a fictional universe unto itself—rich and bawdy and violent and sad, with a beating human heart underneath. I love Koja's daring and flair."
—Louis Bayard, author of The Black Tower

"Koja can pack a lot Dickensian humor into a sentence . . . [she] takes a page from Victorian lit in her writerliness, and she reveals human nature like someone slipped her the manual."
—Cleveland Plain Dealer

"This book made me drunk. Koja's language is at its poetic best, and the epic drama had me digging my nails into my palms. It's like a Tom Waits hurdy-gurdy loser's lament come to life, as sinister as a dark circus."
—Cory Doctorow, BoingBoing

"Unlike anything I've ever read, a world unto itself, spun out of fevered, sensual prose and vivid, compelling characters."
—Lewis Shiner

"A gothic, glam-rock take on love and sex and death that reads a little like what would happen if Sarah Waters and Angela Carter played a drunken game of Exquisite Corpse in a brothel . . . will make you want to get out your very finest crushed velvet, drink a couple bottles of wine, and do something a little bit illegal with someone very good-looking. In other words, it's a winner."
—Tor.com

"All the elements of a great novel are present in Koja's work: from suspense and intrigue to undying love and toxic jealousies, this highly developed read is brimming with imaginative flair and originality."
—Lambda Literary

"People will probably love this book or hate it–possibly both. But let me just say that it would take an author of extraordinary talent to open with a scene of a woman being sodomized by a ventriloquist's dummy and make me want to keep reading. And Kathe Koja is that talented. Five stars."
—Speak Its Name

"The velvet and brocade, the rips and tears, the music and theater, you see it all as you read about what the denizens of the Poppy do to stay in business, stay ahead of the tide, stay alive."
—Colleen Mondor, Chasing Ray

"Frequently changing viewpoints and fluid segues in and out of flashback illuminate actions readers have already witnessed. Part of the fun is heading into the past after knowing the future; even when you know where the story will go, you wonder what will happen next."
—Ann Arbor Observer

"I loved Under the Poppy. It pours like chocolate—laced with brandy; sexy and utterly compelling!"
—Ellen Kushner, author of Swordspoint

"An atmospheric tale for those who like their historical fiction on the dark and lurid side. Those readers who enjoyed Emma Donoghue's Slammerkin or Sarah Water's Fingersmith will find similar themes."
—Library Journal

"A page turner with riveting language and close attention to sensory detail. Set in late 19th-century Brussels, the story follows the adventures of puppeteer Istvan and brothel owner Rupert who bond as friends and lovers."
—Publishers Weekly
Book Videos
or
Not Currently Available for Direct Purchase