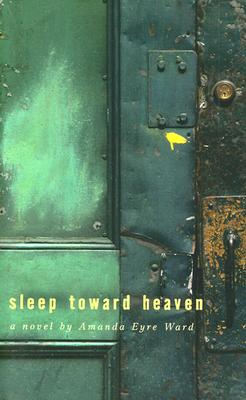 Sleep Toward Heaven (Hardcover)
MacAdam/Cage Publishing, 9781931561235, 245pp.
Publication Date: March 1, 2003
* Individual store prices may vary.
or
Not Currently Available for Direct Purchase
Description
Sleep Toward Heaven is a luminous story of murder and desire, solitude and grace, set in Manhattan and small-town Texas. In Gatestown, twenty-nine-year old Karen awaits her execution on Death Row. In New York, Franny, a doctor the same age, plans her wedding and tries to resist her urge to run. In Austin, Celia, a brassy young librarian, mourns her lost husband. Over the course of one summer, the three women's disparate lives intertwine. Karen, Franny, and Celia all struggle to find their place in a world where nothing is sure, as they move toward one night that will change them all forever. With razor-sharp prose and humor that ignites the page, Amanda Eyre Ward's debut novel will keep you reading all night and give you something to talk about in the morning. Sleep Toward Heaven is a novel to celebrate and to savor. Maybe, for a writer, one life isn't enough. Each story I write is a shadow life, running like a river beside my own. In my fiction, I commit murder, live in a strange house filled with items that don't belong to me, board the midnight bus to New Orleans. Sometimes it is my waking life that seems like a dream. I had just moved to Austin, Texas, when I went for a drink at the Carousel Lounge. The woman behind the bar looked about seventy years old, and she was wearing a leotard and ballet shoes. I asked for a martini, and she poured gin in a water glass, speared an olive with a plastic sword, dropped it in the glass, and said, "Four dollars." Later, I heard her speaking loudly to a regular about a local scandal, the yogurt shop murders. "I hope they find those men and fry them, " said the woman in the leotard. "Then we'll have some peace around here." It seemed to me that thenews in Texas revolved around murders and executions. When the Austin Chronicle asked me to interview the women on Death Row, I drove to Gatesville, a small town in central Texas. Although Darlie Routier, now on Death Row for the murder of her twin sons, decided not to meet with me at the last minute, I couldn't drive by the prison without thinking about the women inside. What had snapped inside their minds? What darkness filled them? And, late at night: is that darkness inside me? There are parts of me in Franny, Karen, and Celia. Franny has my neuroses and my weakness for cheap white wine. Karen has a way of seeing the world from outside that I aspire to. And Celia...well, Celia says the things I'd like to say. She also gets to have the affair with that boy I saw in the post office. I read constantly, and two types of books are my favorites: literary novels about love and forgiveness, and heart-stopping page-turners about dark and creepy people. Rarely have I found a book that is both: a literary page-turner. Ann Patchett writes, "Sometimes if there's a book you really want to read, you have to write it yourself." So I wrote Sleep Toward Heaven. I hope you enjoy it. You will hardly believe how seamlessly, beautifully, masterfully Amanda Eyre Ward has woven together the stories of three very different women in this utterly spellbinding novel. I can't imagine a better guide into the dark corners of the justice system and the mysteries of the human heart.--A.S.

Advertisement