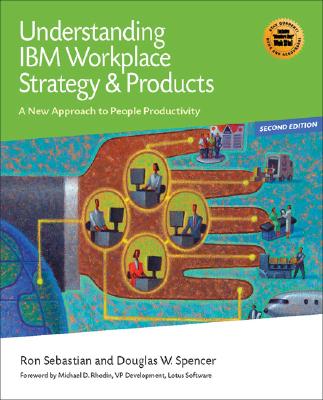 Understanding IBM Workplace Strategy & Products (Paperback)
A New Approach to People Productivity
Maximum Press (FL), 9781931644457, 176pp.
Publication Date: October 1, 2005
* Individual store prices may vary.
Description
IBM Workplace represents an entire portfolio of IBM products, new and existing, that focuses on increasing people's productivity in a new way. In this book, IBM Software Live Program Director Douglas Spencer and Senior Lotus Consultant Ron Sebastian start with an introduction to people productivity in the context of IBM's On Demand Business vision. Then the IBM Workplace strategy and products are described. You will see how the underlying componentized software infrastructure of IBM Workplace provides the flexibility businesses need in the emerging on demand world. You will see how many users without traditional desks such as an outbound sales force, factory floor staff, airline pilots, etc. can collaborate with others boosting the productivity of the entire organization, trading partners, and customers. The authors then provide an overview of the key product lines that implement the IBM Workplace vision including IBM Workplace, WebSphere Portal, Lotus Notes and Domino, and WebSphere Everyplace. You will learn how the new IBM Workplace client technology for these products combines the rich user experience of client/server with the cost characteristics of Web-based applications, giving users the best of both worlds. In the final chapter, the authors explore industry-specific people productivity solutions tailored for the needs of specific industries including aerospace, defense, automotive, banking, financial markets, consumer products, electronics, utilities, government, health care, insurance, life sciences, retail, and telecommunications, etc. The Foreword, by IBM Software Group General Manager of Workplace, Portal, and Collaboration Software, Michael D. Rhodin, provides an insider's perspective on the thinking behind IBM Workplace. To help you stay current, this book comes with your personal password for accessing the companion Web site which offers up-to-the-minute IBM Workplace news, More on the Web links, and additional resources.

About the Author
Ron Sebastian has been with IBM for 27 years and is currently the technical assistant to the vice president of development in the Lotus Software Division where he performs technical product and technology evaluations, represents the development team in critical customer situations, and delivers external and internal technology presentations. He has worked with customers to define and implement their e-business architecture, technical strategies, and applications around the world. He lives in Ancaster, Canada. Douglas Spencer has been with IBM for over 18 years. He has extensive international experience in consulting and technical marketing of IBM software. He has worked in Canada, USA, Asia Pacific, Europe, Middle East and Africa helping businesses understand and implement IT solutions. He has experienced a wide range of cross-platform, international, cross-industry, and industry-specific software solutions. Currently, he is the program director of the worldwide executive briefi ng team called IBM Software Live! He lives in Somers, New York.
or
Not Currently Available for Direct Purchase