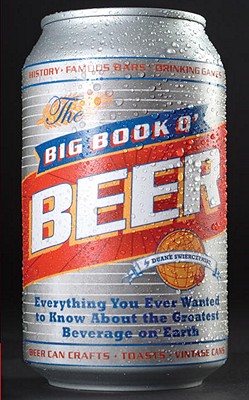 The Big Book o' Beer
Paperback

* Individual store prices may vary.
Description
Beer Drinkers of the World, Unite!
 
The Big Book O' Beer  is an extravagant full-color celebration of the Greatest Beverage on Earth, complete with hundreds of dazzling photographs and countless little-known facts. Author Duane Swierczynski takes readers around the world—and through ten thousand years of history—for a beer-fueled tour of:
 
     •  History: Who invented beer? Who started the first Oktoberfest? And which U.S. president proposed a national brewery?
     •  Geography: See the world from your La-Z-Boy. Tour the world's coolest pubs, visit exotic breweries, and sample the best beers you've never heard of. From Ireland and Australia to the Dominican Republic, we've got your glass covered.
     •  Connoisseurship: Learn the difference between an ale and a lager (it's all in the yeast!) and kick back with the ten biggest brewers on Earth. Plus a five-step program for sounding like a beer snob.
     •  Crafts and Gear: The coolest beer gear on Earth—from mugs and steins to clocks, funnels, and goofy hats. Plus instructions for transforming your empties into dazzling arts and crafts.
     •  Science: Where does foam come from? Why does beer give us large bellies? How come I get beer goggles when I drink? And why don't they teach this stuff in high school?
     •  Arts and Entertainment: The greatest beer ads you've never seen—along with classic beer moments in television, cinema, literature, and more. Plus beloved beer spokesmodels like Miss Rheingold and Spuds MacKenzie.
 
And that's not all. Did we mention the section on classic cheap beers? The recipe for beer-flavored ice cream? The rules for hilarious drinking games? The guidelines for brewing your own stash? It's time to belly up to the bar and start reading—a wide world of beer awaits you!

Quirk Books, 9781931686495, 208pp.
Publication Date: April 1, 2004
About the Author
Duane Swierczynski is also the author of The Perfect Drink for Every Occasion. He lives in Philadelphia with his wife, Meredith, and their two children. If you opened his refrigerator right now, you'd find bottles of Guinness, Yuengling Lager, Victory Whirlwind, Sierra Nevada, Sapporo, Carlsberg, two cans of Schlitz that nobody wants to touch, and a 1998 can of Coors Light left over from when his father-in-law visited for Christmas. The Smithsonian has expressed interest.
or
Not Currently Available for Direct Purchase