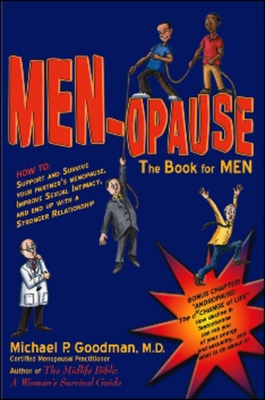 Men-Opause: The Book for Men (Paperback)
The Book for Men
Robert Reed Publishers, 9781931741859, 80pp.
Publication Date: January 1, 2010
Description
FINALLY A first A book on menopause for men Author Dr. Goodman shows men how to support and survive their partner's menopause, improve sexual intimacy, and end up with a stronger relationship. Dr. Mike has been listening to women for 35 years, and now in his companion book to The Midlife Bible, here in MEN-OPAUSE: The Book for MEN, he: 1. Outlines the issues2. Explains the physiology3. Acknowledges the crazies4. Identifies many things women can do to help themselves5. Shows the men how they can help, and6. Advises when it is best for the men to get out of the way 7. And in a Bonus Chapter - Andropause: The Male Change of Life, he explains how the decline in testosterone can rob men of their energy and sexuality, and explains how they can get their testosterone and erections up to a more sustainable level.Life does not stop at 50 MEN-opause: The Book for MEN will help guide couples through the temporarily troubled waters of midlife.
Advertisement