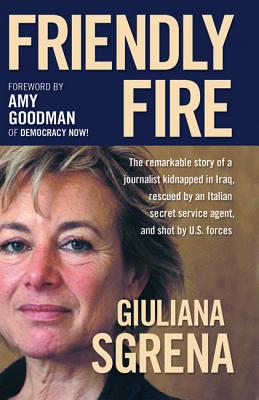 Friendly Fire (Hardcover)
The Remarkable Story of a Journalist Kidnapped in Iraq, Rescued by an Italian Secret Service Agent, and Shot by U.S. F
Haymarket Books, 9781931859394, 215pp.
Publication Date: October 1, 2006
* Individual store prices may vary.
Description

"Giuliana Sgrena's work is forever curious, powerful, and brave. I salute her."--John Pilger

Giuliana Sgrena brings us inside the US occupation of Iraq as no other journalist has done.

The leading Italian journalist, whose personal story was featured on "60 Minutes" and in other major media worldwide, describes the real story of her capture, dramatic release, and shooting in 2004.

While reporting for the Italian daily newspaper "Il Manifesto" in Iraq, Sgrena was taken hostage by a group of Iraqis on February 4, 2005, and held until March 4, 2005. On the day of her release, as she was being escorted to Baghdad International Airport by Italian security, US forces fired on her vehicle. The attack killed Major General Nicola Calipari, the number-two man in Italian military intelligence, as he shielded Sgrena.
In the book, Sgrena describes her experience as a hostage and provides unique insights into the situation in Iraq under occupation, exposing US war crimes there.

In her foreword to this edition, radio and television host and best-selling author Amy Goodman of "Democracy Now " situates the attack on Sgrena in the context of the increased targeting of journalists in conflict zones around the world.
About the Author
Giuliana Sgrena is a veteran journalist for Il Manifesto newspaper in Italy. Amy Goodman has been confronting the Washington establishment and its corporate sponsors while giving voice to the ordinary citizens and activists who are fighting for a better, more peaceful world. Her daily international radio and TV show, Democracy Now!, began in 1996 and is now carried on more than 500 stations and on http: //www.democracynow.org.
or
Not Currently Available for Direct Purchase