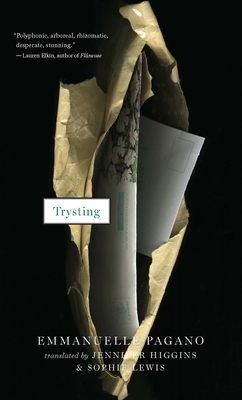 Trysting (Paperback)
Two Lines Press, 9781931883566, 220pp.
Publication Date: November 15, 2016
* Individual store prices may vary.
Description
"It's as though you had to know the password for our relationship . . ." What is love? Why do some people make our hearts flutter, while others leave us cold? A seductive blend of Maggie Nelson and Marguerite Duras, Trysting seizes romance's slippery truths by letting us glimpse nearly 300 beguiling relationships: scenes between all genders and sexualities, including first dates, infidelities, dependencies, missed connections, bitter memories, and first passions. Proving that the erotic knows no bounds, almost anything can be a means of attraction: from amnesia and throat-clearing to sign language, earplugs, back hair, arthritis, PVC, and showers. Combining aphorisms, anecdotes, and adventures, Trysting is a tour de force that gives a new perspective on a question as old as humanity.