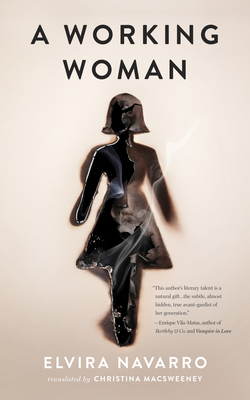 A Working Woman (Paperback)
Two Lines Press, 9781931883658, 256pp.
Publication Date: October 10, 2017
* Individual store prices may vary.
Description
Acclaimed as a meticulous explorer of the psyche's most obscure alleyways, Elvira Navarro here gives us a novel of feminine friendship, potent sexuality, madness, and the vulnerability that makes us reveal our most shameful secrets. It begins as Elisa transcribes the ravings of her roommate Susana, acting as part-therapist, part-confessor while this odd woman recounts the shocking tale of her gay dwarf boyfriend, the only person who will fulfill her singular sexual appetites. But is she telling the truth? And what to make of Elisa's strange account of her difficult relationship with Susana, one that blends her ambitions as a writer with her deep need for catharsis? And in one final surprise, A Working Woman concludes with a curious epilogue that makes us question everything we have just read. With her penchant for finding the freakish side of the everyday, and her precisely timed, mordant sentences, Navarro's most successful novel to-date masterfully uncovers the insecurity lurking just beneath the surface of every stable life.
About the Author
Elvira Navarra was named by Granta magazine one of the "Best of Young Spanish-Language Novelists" in 2010, and she was declared one of the major Spanish voices of the future by the magazine El Cultural in 2013. The author of five novels and short story collections, she has received numerous awards and honors for her work. Translated into French, Swiss, Italian, Turkish, and Arabic, Navarro lives in Barcelona. Christina MacSweeney was awarded the 2016 Valle Inclan Translation Prize for her translation of Valeria Luiselli's The Story of My Teeth, and her work has been shortlisted for a number of other prizes. Her translations of Daniel Saldana Paris's novel Among Strange Victims (finalist in the 2017 Best Translated Book Award), and Eduardo Rabasa's A Zero Sum Game both appeared in 2016. She has also published translations, articles and interviews on wide a variety of platforms, plus in three anthologies: Mexico20, Lunatics, Lovers & Poets: Twelve stories after Cervantes and Shakespeare, and Crude Words: Contemporary Writing from Venezuela. She is now working on texts by Julian Herbert and Veronica Gerber Bicecci.