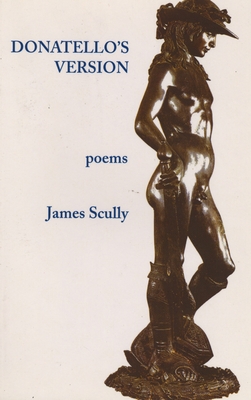 Donatello's Version (Paperback)
Curbstone Books, 9781931896313, 103pp.
Publication Date: April 1, 2007
* Individual store prices may vary.
Description
These are post-9/11 poems examining such issues as the Holocaust, the prison scandals in Iraq, and other human rights violations.
Written as the war on terror morphed into an imperial war, Donatello's Version carries on the public poetry tradition of Aeschylus, Sophocles, Horace, Juvenal, Dante, Milton, Blake, and others. These poems arise from the premise that words matter, that the res publica (the human value that individuals in a community place above their own self-interest) also matters, and that the voice of the poet can make a difference.
In Donatello's Version, post-9/11 reality is re-viewed through Hamlet, Donatello's David, Lazarus, and Coltrane. Rather than being a poetry collection of answers, this is a poetry collection of questions, impasses, and revelations.
About the Author
James Scully is considered one of the most important figures in poetry that engages the reader in social and political issues. Born in 1937 in New Haven, Connecticut, he is the winner of the 1967 Lamont Award and the recipient of a 1973 Guggenheim Fellowship. He spent 1973 and 1974 in Santiago, Chile, on which his book Santiago Poems is based. Over the years, his poetry has appeared in many diverse periodicals. He currently lives in San Francisco.
Praise For Donatello's Version…
"Donatello's Version is a social poetry which arises not from opinionation and facile protest, but from clear-eyed witness." — Richard Wilbur
"James Scully's Donatello's Version is essential reading...Scully's achievement has matched his remarkable ambition." —Jon Andersen, The Café Review
"James Scully's fierce moral intelligence, poetic craft and grim humor are all alive and well in this long-awaited collection." —Adrienne Rich
or
Not Currently Available for Direct Purchase