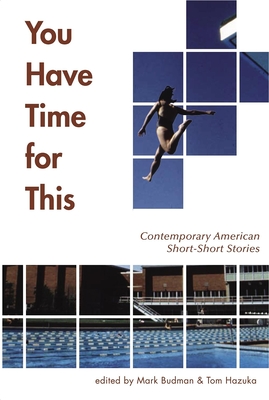 You Have Time for This
Contemporary American Short-Short Stories
Paperback

* Individual store prices may vary.
Description
This collection takes the modern reader on fifty-three literary rides, each one only five hundred words or less. Mark Budman and Tom Hazuka, two of the top names in the genre, have compiled an anthology of mini-worlds as diverse as the authors who created them.
Contributing writers include Steve Almond, author of My Life in Heavy Metal and Candy-freak; Aimee Bender, author of The Girl in the Flammable Skirt; Robert Boswell, author of five novels including Century's Son; Alex Irvine, author of A Scattering of Jades; L. E. Leone, who writes a weekly humorous column about food and life for the San Francisco Bay Guardian; Justine Musk, author of dark-fantasy novels including Blood Angel; Susan O'Neill, writer of nonfiction and fiction with a book of short stories Don't Mean Nothing: Short Stories of Vietnam; and Katharine Weber author of several novels, her most recent is Triangle.
From Buddha to beer, sex to headless angels, there's a story here for everyone. In You Have Time for This you will find:
Flash fiction from forty-four authors
Works from across the globe
Highly regarded authors from all types of genres
Fresh work from emerging writers
Fifty-three stand-alone pieces that tie the world together
Enjoy. You have time for this.
Ooligan Press, 9781932010176, 135pp.
Publication Date: November 1, 2007
About the Author
Veteran short-short fiction writers and editors, Mark Budman and Tom Hazuka are masters of the genre. Budman co-edits "Vestal Review, " a short-short fiction magazine, and has been published widely. His first novel is coming out in May 2008. Budman has taught extensively on the subject of flash fiction at colleges and universities on the East Coast. Hazuka co-edited the first major short-short fiction anthology, "Flash Fiction, " in 1992, as well as authoring three novels, one work of nonfiction, and more than thirty stories. He teachers English at Central Connecticut State University.