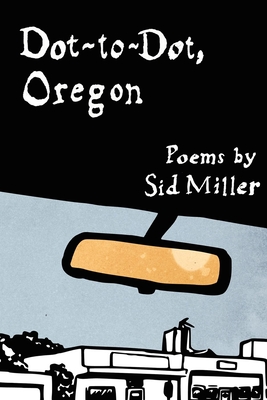 Dot-To-Dot, Oregon (Paperback)
Ooligan Press, 9781932010299, 90pp.
Publication Date: October 1, 2009
* Individual store prices may vary.
Description
Sid Miller, editor of the Burnside Review, explores seven routes from the coast to the mountains, from inner-city Portland to the Idaho border. Dot-to-Dot, Oregon, a collection of fifty poems, travels through the cities, towns, and monuments of Oregon. Using these locales as a background, three voices narrate the author's loving but critical relationship with the state he calls home.
About the Author
Sid Miller was born in Honolulu, Hawaii, and moved around a bit before settling in Portland in 1999. In 2004, he created the Burnside Review, which is now one of Portland's most well-respected literary journals. He continues to work as the Review's executive editor and supplements his income by bartending. Sid has published three poetry collections and has had his work accepted by The Oregonian, the Portland Review, High Desert Journal, and more. He attended Portland State University from 2000 to 2002.
Praise For Dot-To-Dot, Oregon…
Sid Miller's town-by-town pilgrimage across Oregon is a mini Odyssey alive with insight into the state's enigmatic terrain and working class people. Through bars, markets, and laundromats and from seaside towns to urban hubs, this poet faces some hard truths about himself, his allegiance to place, and to the woman he loves. —Dorianne Laux
Proclaiming no "better way to pass the time than to snoop around," Sid Miller takes us on a map-dot to map-dot journey; the poems in his witty and wry love song to Oregon are both keenly and compellingly observant. From each town, city, or site, he gleans the quirky particulars that bring its place-name to life. Rich in striking specifics and dark ironies, his voice is ready to celebrate whatever is in front of his eyes and "not for a second want anything else." —Paulann Petersen
Connect the dots? If you do you'll discover some strange and wonderful constellations superimposed over familiar topography…Dot-to-Dot is a lyrical and, at times, a dark and hilarious guide to the blue lines (secondary roads) of the Beaver State. So before you head out to Shoetree (Don't look for it on a highway map.), Nyssa (a damsel in metaphysical distress?), or some other exotic location in the Beaver State, take a look at Sid Miller's new book or, better yet, take it with you on your rambles." —Carlos Reyes
or
Not Currently Available for Direct Purchase