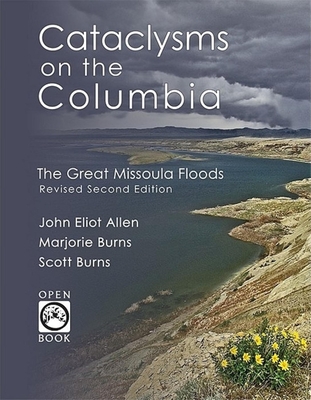 Cataclysms on the Columbia
The Great Missoula Floods (Openbook)
Paperback

* Individual store prices may vary.
Description
The OpenBook Series highlights Ooligan Press's commitment to transparency on our road toward sustainable publishing. We believe that disclosing the impacts of the choices we make will not only help us avoid unintentional greenwashing, but also serve to educate those who are unfamiliar with the choices available to printers and publishers. Efforts to produce this series as sustainably as possible focus on paper and ink sources, design strategies, efficient and safe manufacturing methods, innovative printing technologies, supporting local and regional companies, and corporate responsibility of our contractors. All titles in the OpenBook series will have the OpenBook logo on the front cover and a corresponding OpenBook Environmental Audit inside, which includes a calculated paper impact from the Environmental Defense Fund.
Ooligan Press, 9781932010312, 216pp.
Publication Date: November 1, 2009
About the Author
John Eliot Allen coauthored the first edition of Cataclysms on the Columbia with Marjorie Burns. He was Professor Emeritus of Geology at Portland State University, a lifelong student of the Columbia Gorge, and author of The Magnificent Gateway, a detailed guide to its geology. He passed away on December 17, 1996, at the age of 88 following an illustrious career as a field geologist, professor, and writer. All three of the authors are native Oregonians.Marjorie Burns is an author, traveler, and lover of minor adventures, as well as Professor Emeritus at Portland State University. Her main area of expertise is nineteenth-century British literature, though she has also published extensively on J. R. R. Tolkien's fiction and scholarship. She lives with her husband in Washington State at the base of a Cascade volcano and rock climbs, cycles, or kayaks when she's freed from writing and work.Scott Burns is a professor of geology at Portland State University with research interests that include engineering geology, environmental geology, soils, landslides, geomorphology, and Quaternary geology. When not teaching, he serves on various geological committees and has written numerous articles, chapter contributions, and books. He has taught in Switzerland, New Zealand, Washington, Colorado, and Louisiana before coming home to Oregon. His first book was Environmental, Groundwater, and Engineering Geology: Applications from Oregon (1998). At PSU he has received the Distinguished Faculty Award and the George C. Hoffman Award.