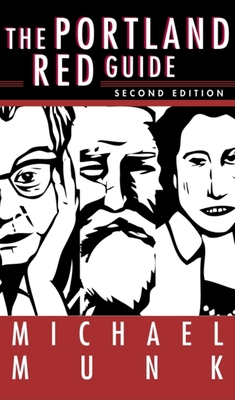 The Portland Red Guide
Paperback

* Individual store prices may vary.
Description
A historical guidebook of social dissent, Michael Munk's The Portland Red Guide describes local radicals, their organizations, and their activities in relation to physical sites in the Rose City. With the aid of maps and historical photos, Munk's stories are those that history books often exclude. The historical listings expand readers' perspectives of the unique city and its radical past. The Portland Red Guide is a testament to Portland's rich history of working-class people and organizations that stood against repression and injustice. It honors those who insisted on pursuing a better justification for their lives rather than the quest for material wealth, and who dedicated themselves to offering alternative visions of how to organize society.
The Portland Red Guide
uses maps to give readers a walking tour of the city as well as to illustrate sites such as the house where Woody Guthrie wrote his Columbia River songs; the office of the Red Squad (the only memorial to John Reed); the home of early feminist Dr. Marie Equi; and the downtown site of Portland's first Afro-American League protest in 1898. This new edition includes up-to-date information about Portland's most contemporary radicals and suggests routes to help readers walk in the shadows of dissidents, radicals, and revolutionaries. These stories challenge mainstream culture and testify that many in Portland were, and still are, motivated to improve the condition of the world rather than their personal status in it.
Praise For The Portland Red Guide…
Praise for the first edition of The Portland Red Guide: Sites & Stories of our Radical Past:
"A roller-coaster ride through Portland's radical past. Who knew that being on the losing side of just about everything could be so much fun?" — Phil Stanford, Portland Tribune columnist, author of Portland Confidential
"Michael Munk did a terrific job of researching local leftist and labor struggles usually ignored by conventional historians and the commercial media." — Gene Klare, columnist, Northwest Labor Press. Former reporter, pre-strike The Oregonian and the Portland Reporter
"Whoop! Whoop! I'm impressed by how many names from Portland's past have not made it into our official histories and public memorials. Some were good friends of mine. Local history is too often overlooked." — Bud Clark, fomer Mayor of Portland, 1985–1992   "Michael Munk is the Lewis and Clark of Portland's radical past, leading his readers on a voyage of discovery through a long-lost and wonderfully evocative historical terrain. I only wish the Red Guide had been around in the days when I was one of those Portland radicals he writes about with such knowledge (and affection)." — Maurice Isserman, author of
If I Had a Hammer: the Death of the Old Left and the Birth of the New Left
  "What fun to learn all the ordinary places have a not-so-ordinary history. Some will call The Portland Red Guide subversive, others will welcome it as the sweet breeze of revelation, but all will have to admit it adds a fascinating new layer to appreciating Portland. Even those Portlanders who think they know their city's past will likely find themselves shocked at the wealth of radical Portland history related in this volume. One hopes it becomes as ubiquitous as cell phones in Portland pedestrians' hands." — Sandy Polishuk, author of
Sticking to the Union: An Oral History of the Life and Times of Julia Ruuttila
  "Going to these addresses can bring to mind what has gone before and perhaps, encourage more resistance today. I had no idea so much has happened in Portland. And reading the names of people who struggled and whom I worked with brought up lots of memories." — Sandra Ford, former wife of Black Panther Party leader Kent Ford
Ooligan Press, 9781932010374, 231pp.
Publication Date: May 1, 2011
About the Author
Michael Munk was born in Prague in 1934. He graduated from Reed College and the University of Oregon, and received a Ph.D. in politics from New York University in 1974. Munk taught political science for twenty-five years at SUNY, Roosevelt, and Rutgers University. Since then, he has researched local political history and has been published in the Oregon Historical Quarterly, the Pacific Northwest Quarterly, and Science & Society. His column, "Our Radical Past," was a monthly feature in the Portland Alliance for several years. Most recently, his article "John Reed: Political Provocateur" appeared in Portland Monthly, and "McCarthyism Laid to Rest?" was published in Reed Magazine. He recently spoke at the Northwest Labor History Association Conference and presented "The Experience and Legacy of McCarthyism in Oregon" at McMenamins, Edgefield.