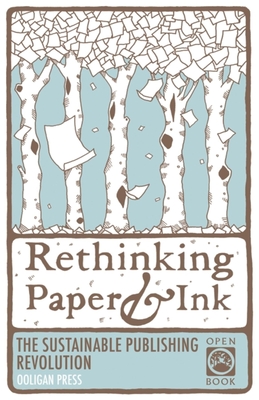 Rethinking Paper & Ink
The Sustainable Publishing Revolution (Openbook)
Paperback

* Individual store prices may vary.
Description
Rethinking Paper & Ink offers a critical examination of the book publishing industry and discusses ways to achieve more sustainable practices. Through extensive research and experience in the industry, the authors present ideas on sustainability within the book-making process, reviewing the environmental impacts of acquisitions and editing, design and printing, marketing and distribution, and both print and digital sales. Rethinking Paper & Ink includes a detailed account of the choices Ooligan Press made to produce the book itself and features industry profiles that highlight remarkable individuals, organizations, and businesses exemplifying these standards.
Praise For Rethinking Paper & Ink: The Sustainable Publishing Revolution (Openbook)…
"Rethinking Paper & Ink: The Sustainable Publishing Revolution is a fantastic follow-up to its predecessor. Carver and Guidry, this time, delve even deeper into the environmental impacts of the publishing industry from distribution to manufacturing and unsold books, illuminating the dilemmas which face of all the industries connected. However, Rethinking Paper & Ink doesn't just focus on the problem, it provides practical options to help remedy this crisis. The authors are passionate about ensuring that the reading audience understands that sustainability is a moving target that evolves with technology and global events. It is important, which the authors explore, to keep aware, educated and willing to try new avenues in book publishing in order to keep this industry alive moving forward in this century and beyond." —Eric Benson, ReNourish
"When I heard about a book called Rethinking Paper & Ink, my first thought was: Hey, that's also what we do with our Ecofont software! While reading the book, I was amazed by the diversity in both smart ideas and workable solutions. All this rethinking can really make a difference in the use of paper and ink. More over, the book shows that the ongoing changes in our world ask for constant rethinking on the way we approach things. An inspiring book." —Gerjon Zomer, EcoFont/Spranq
"Rethinking Paper & Ink is the first truly comprehensive assessment of the book publishing industry's environmental impact. As publishers grapple with how to make publishing a more sustainable enterprise, this is a superb, must-read resource." — Margo Baldwin, President and Publisher, Chelsea Green Publishing
Ooligan Press, 9781932010398, 156pp.
Publication Date: April 1, 2011
About the Author
Rethinking Paper & Ink is a collaborative effort by graduate students in the publishing program at Portland State University. Jessicah Carver and Natalie Guidry are the primary authors. Rethinking Paper & Ink is based on a booklet of the same name by Melissa Brumer and Janine Eckhart, founders of Ooligan Press's Sustainable Publishing Initiative. This booklet launched Ooligan Press's OpenBook series, which is a collection of sustainably produced books. Ooligan Press is an independent, nonprofit publishing house that is run entirely by the students in the Master's in Publishing program at Portland State University, one of the world leaders in sustainable research and scholarship.