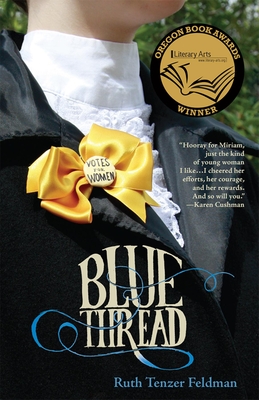 Blue Thread (Blue Thread Saga)
Paperback

* Individual store prices may vary.
Description
The women's suffrage movement is in full swing in 1912 Portland, Oregon—the last holdout state on the West Coast. Miriam desperately wants to work at her father's printing shop, but when he refuses she decides to dedicate herself to the suffrage movement, demanding rights for women and a different life for herself. Amidst the uncertainty of her future, Miriam's attention is diverted by the mysterious Serakh, whose sudden, unexplained appearances and insistent questions lead Miriam to her grandmother's Jewish prayer shawl—and to her destiny. With this shawl, Miriam is taken back in time to inspire the Daughters of Zelophehad, the first women in Biblical history to own land. Miriam brings the strength and courage of these women with her forward in time, emboldening her own struggles and illuminating what it means to be an independent woman.
Praise For Blue Thread (Blue Thread Saga)…
"Hooray for Miriam, just the kind of young woman I like—curious, compassionate, intelligent, independent, and determined. Her story is told in Blue Thread, a wonderfully written novel about her struggle to be herself, to be honest, and to be just. In an intriguing blend of fantasy and historical fiction, Miriam finds the battles of the past informing her present and inspiring her future. I cheered her efforts, her courage, and her rewards. And so will you." —Karen Cushman, author of The Midwife's Apprentice
"Like Miriam herself, Blue Thread interweaves elements of faith, history, and politics, but what I loved most about this young adult novel was the even more powerful element of family. From the dominant conflict and connection between Miriam and her father to the more fantastical tie between the women of the Josefsohn family, Ruth Tenzer Feldman does a beautiful job peering into the bonds that bring us together, tear us apart, and allow us to travel beyond ourselves." —Anne Osterlund Swan, author of Academy 7
"Miriam's journey in Blue Thread is both magical and inspiring. No doubt, like the blue thread itself, her story will be passed down from mothers to daughters—and if there is any justice, from fathers to sons as well." —David Michael Slater, author of the Sacred Books series
Ooligan Press, 9781932010411, 302pp.
Publication Date: February 1, 2012
About the Author
Ruth Tenzer Feldman is the author of numerous historical and political nonfiction books for children and young adults, including "The Fall of Constantinople," "Thurgood Marshall," "Don't Whistle in School: The History of America's Public Schools," and" How Congress Works." She holds degrees in both law and international relations, and has spent time working as a legislative attorney for the U.S. Department of Education. Ruth is an active member of local Jewish organizations and historical societies. She has spent countless hours researching Jewish history, women's suffrage, and early twentieth century printing techniques to bring historical accuracy to "Blue Thread," her first young adult novel.