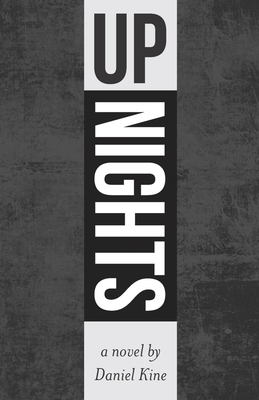 Up Nights
Paperback

* Individual store prices may vary.
Description
Up Nights, Daniel Kine's second book, is a classic road novel for a new generation. In raw, unrelenting prose, Kine tells the story of the complexities of human relationships when four friends embark on an existential journey through the underbelly of society. As they drift from city to city, they each struggle to connect with the disenchanted people they encounter along the way. Up Nights speaks to the reality of the human condition: the unequivocal impermanence of life.
Praise For Up Nights…
Up Nights is part honest reporting back to the "straights" what the underbelly of living a young American life is made of, and part intimate, fierce, unflinching, graphic, agonizing, confessional beauty. Not since Burroughs have I wanted to read a book and then maybe eat it alive. Daniel Kine shows us the untethered soul of the twenty-first century youth trip, designed via dream, language, image. Say hello to your uncontainable Id. —Lidia Yuknavitch, author of Dora: A Headcase and A Chronology of Water

Adult/High School–Kine's searing new novel reads as if The Great Gatsby had been stripped of every trace of glamor, leaving behind only Fitzgerald's underbelly of pessimism, substance use, and the rotted out American Dream. In Book One, narrator Arthur is reunited with his childhood friend Francis, an erstwhile poet who has given up on writing or reading. The two spend their time in a dilapidated hotel in Portland, making friends with their local heroin dealer and passes at Vita, the girlfriend of their third friend–the elusive, Gatsby-like Bill, whom Arthur has left behind in a hospital in Mexico City. In Book Two, Arthur, Francis, and Vita finally meet up with Bill, now living in New Orleans, and get involved with a small-time criminal and a scheme to bring undocumented immigrants to the States from Cuba. The unrelenting dreariness of drugs, petty crime, and unappealing sex may appeal to readers of Adam Rapp, but Kine has bigger things on his mind than Rapp's nihilism. Though Arthur assures readers that Bill is the golden-boy hero of his story, the heart of the novel lies between Arthur's blind gropings for meaning and Francis's confused attempts to pull himself out of his depression. Meanwhile, Kine has some genuinely important thoughts on the drug trade and immigration hiding among the grime of his story. This is a hard-edged novel that can be difficult to read, but it is well worth the effort, especially for teens searching for their own way in life.–Mark Flowers, John F. Kennedy Library, Vallejo, CA
-Mark Flowers

Up Nights begins with Francis knocking on the door of his friend Arthur's room in Portland. The pair grew up together in the Midwest and spent their early twenties bouncing in and out of college and various cities. Arthur has just returned from a time in Mexico, where he left their friend Bill behind. Fueled by confusion, desire and dejection, the group travels throughout the country, weaving relationships with one another and a patchwork of people they meet along the way. "Canada. Vancouver. I have to see someone there. I've been putting it off because it's the only thing that I know I have to do." Unlike the impassioned desire of the New Adult genre, these are the themes I saw in so many of my friends in our early to mid twenties. It could have more to do with the time period and location, but reaching that age in the early 2000's in Detroit had most of us scrambling to leave the Midwest, much like Kine's characters. At the same time, however, I saw that same sense of procrastination. People wanted to go, but very few wanted to stay in the place they went. 
Kine has a writing style that is well matched for this type of narration; short and choppy in dialogue, with more lyrical first person thoughts. Much of what Arthur concludes is quite poetic and shouldn't be overlooked by the meandering details of the group's journey, particularly in the beautiful ending paragraphs. 
-Shannon
Ooligan Press, 9781932010633, 198pp.
Publication Date: May 1, 2013
About the Author
Daniel Kine is author of the novels Between Nowhere and Happiness (2009, Smallhand Press) and forthcoming Up Nights (2013, Ooligan Press). He was born in Toledo, Ohio, in 1984, and studied philosophy and literature in San Francisco, Mexico City, Guatemala, and Portland, Oregon. His writing has appeared in several publications, including Modern Review, Q Poetry, Pathways, and Indie Literature Now. His fiction has been described as "concerning the rootlessness of modern youth." Common themes in his novels revolve around suicide, affectlessness, drug use, and the struggles of individual freedom. He lives in London.
or
Not Currently Available for Direct Purchase