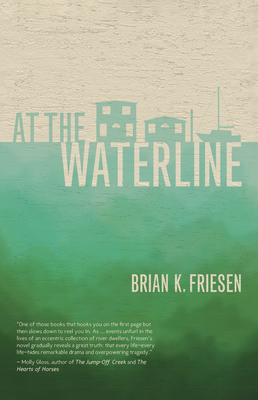 At the Waterline
Paperback

* Individual store prices may vary.
Description
One windy night on the Willamette River, a young man with romantic notions of a sailing life crashes his boat into a railroad bridge, nearly killing his wife. Divorced, ashamed, and haunted by the tragedy, Chad tries to leave the river and its memories behind, only to be drawn back years later. At a ramshackle marina north of Portland, he lives and works among a motley assortment of houseboat dwellers and liveaboards, each with their own story and their own reasons to distrust or embrace a newcomer who can't quite commit to being one of them.
There's Dory and Marge, one a dreamer, the other a purveyor of hot dogs and gossip, necessary glue for a community literally tied together in the current; there's Barry, the Catholic priest who has lost his faith; Bernice and Bill, a perfect couple on the verge of fracturing; and there's Jack, who has lived on the river his entire life--before speedboats, before electricity, and before shotguns went out of style as a way of settling disputes.
As the seasons bring changes to the river, Chad and this makeshift community change each other in unexpected ways, learning to love, to trust, and to heal.
Ooligan Press, 9781932010923, 276pp.
Publication Date: May 1, 2017
About the Author
For several years, Brian Friesen called his sailboat home. He worked in various Portland-area marinas along the Columbia River, cultivating his reality of gritty community life upon the river. No longer muddied up on a sailboat, Brian has shifted his perspective of river life to a home along the Tualatin, outside Portland, Oregon, with his wife and two children.