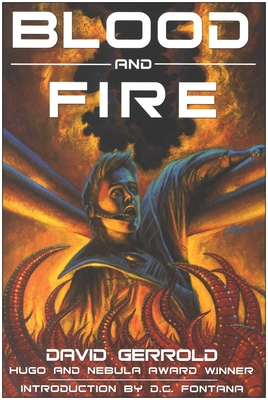 Blood and Fire
Paperback

* Individual store prices may vary.
Description
With an introduction by D.C. Fontana

The Morthans were physically and mentally superior. Descended from humans, they were now, literally, "more-than" human … and considered the human race to be little better than animals. They would stop at nothing to conquer the remaining human-controlled worlds.

Formerly a never-filmed script for Star Trek: The Next Generation, this conclusion to the Star Wolf trilogy finds Executive Officer Korie and the crew of the Star Wolf answering a distress call from a mysteriously lifeless ship. On board the Norway, they discover half-wave, half-particle clusters of golden light—and a dead man. The lights are the energy form of bloodworms, a fatal infestation that feeds off the energy of living bodies, which scientists on the Norway have developed for use in the Alliance's war against the Morthans. Officer Korie's struggle between his conscience and his desire for vengeance will determine not only the safety of the Star Wolf, but the fate of the enemies he's sworn to destroy.
BenBella Books, 9781932100112, 232pp.
Publication Date: December 11, 2003
About the Author
David Gerrold is the author of the Hugo and Nebula award–nominated The Man Who Folded Himself and When HARLIE Was One, books that quickly established him in the hard science fiction genre during the 1970s. He also wrote "The Trouble with Tribbles" episode of Star Trek, voted the most popular Star Trek episode, and is the author of the popular Star Wolf, Dingillian, and Chtorr series. He lives in Northridge, California.