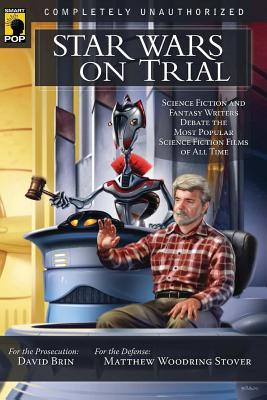 Star Wars on Trial (Paperback)
Science Fiction and Fantasy Writers Debate the Most Popular Science Fiction Films of All Time
Benbella Books, 9781932100891, 386pp.
Publication Date: June 1, 2006
* Individual store prices may vary.
Description

Debates on the authenticity of the "Star Wars" franchise and the hero-or-villain status of George Lucas are at the heart of these essays by bestselling science-fiction authors. The incredible popularity of the movies has led to the formation of strong emotions within the science fiction community on the strengths and flaws of the films, exemplified here by David Brin's attacks and Matthew Woodring Stover's defense of the movies. This intense examination of the epic works addresses a broad range of issuesfrom politics, religion, and the saga's overall logic to the impact of the series on bookshelf space as well as science-fiction film. The question "Is George Lucas a hero for bringing science fiction to a mass audience or a villain who doesn't understand the genre he's working for?" is discussed before a final "Judge's Verdict" on the greatnessor weaknessof the franchise is reached.
About the Author
David Brin is the author of 15 novels, including "Earth, Startide Rising, " and "The Uplift War, " and numerous short stories. He is the recipient of three Hugo Awards and one Nebula Award. He lives in Encinitas, CA. Matthew Woodring Stover is the author of the film novelization "Stars Wars: Revenge of the Sith, " as well as "Blade of Tyshalle" and "Star Wars: Shatterpoint." He lives in Chicago, IL.
or
Not Currently Available for Direct Purchase