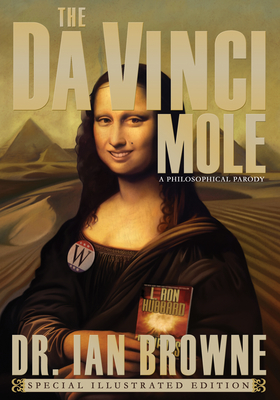 The Da Vinci Mole
A Philosophical Parody
Paperback

* Individual store prices may vary.
Description
Keeping Da Vinci Code fans, conspiracy buffs, and puzzle enthusiasts in mind, the mysterious Dr. Ian Browne has woven a story of taut suspense and shocking revelations. When Eric San Lete, visiting curator of the Whitney Museum, is found dead, having left only a cryptic message as a clue to his death--"Oh, Rubik's Cube / Oh, Unisex haircut / Find Dan Black / (Ehay idn'tday oday itway)--" Dan Black, professor of modern art, and Saphie Paradise, French exchange student, are sent on a whirlwind adventure to uncover the most profound conspiracy in the history of the human race. Except for the words, every aspect of The Da Vinci Mole is accurate, and it reveals the truths behind some of the great mysteries of the universe, including the secret meaning of Jackson Pollock's paintings, why Intelligent Design is actually correct, definitive proof of the existence of God, the truth behind Area 51, the real rationale for the conservative agenda, the secret plan of the Scientologists, and what Karl Rove does in his spare time.
Benbella Books, 9781932100907, 127pp.
Publication Date: March 11, 2006
or
Not Currently Available for Direct Purchase