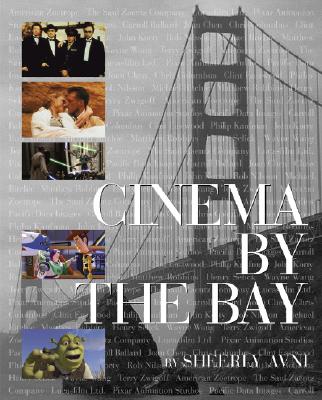 Cinema by the Bay (Hardcover)
George Lucas Books, 9781932183887, 272pp.
Publication Date: May 23, 2006
* Individual store prices may vary.
Description
What do Apocalypse Now, One Flew Over the Cuckoo's Nest, Star Wars, The Incredibles, Shrek, High Plains Drifter, Never Cry Wolf, Mrs. Doubtfire and The Right Stuff have in common? These great post '60s full length feature films, and many others, were produced by the five movie studios located in the Bay Area or directed by independent filmmakers living and working in Northern California.
In the early '70s the Bay Area film community exploded with a proliferation of California-schooled independent filmmakers and the founding of several new studios--American Zoetrope, The Saul Zaentz Company and Lucasfilm Ltd. With the formation of Pixar and PDI studios, the '80s welcomed yet another fresh pool of talent-many of whom were recent graduates of the California Institute of the Arts and Stanford where they had studied experimental animation. Over the years, many factors and influences have caused such an eclectic group of filmmakers to gravitate towards the Bay Area: the talented community of artists, the proximity to Stanford, the tech companies of Silicon Valley, even the uncommonly beautiful light has played a part. Some came, like Francis Ford Coppola and George Lucas, with a vision to create a film studio away from the traditional pressures of Hollywood, following in the footsteps of John Korty. Some, like Phil Kaufman, were drawn to the area's writers, such as Henry Miller. And some were born here, and stayed because, as Clint Eastwood says, "Where you're born sort of becomes your roots." However they ended up here, all of the Bay Area filmmakers share one driving quality: they love making movies on their own terms and according to their own vision.
About the Author
Author SHEERLY AVNI, is a Bay Area-based Arts and Entertainment writer. Her essays and articles have appeared in San Francisco Magazine and Variety, and on Salon.com. Introduction by MICHEAL SRAGOW, the lead film critic for the Baltimore Sun. Michael edited the Library of America's two-volume collection of James Agee's writing and Produced and Abandoned: The National Film Critics Write on the Best Films You've Never Seen. His essays, articles, and reviews have appeared in many publications including The New Yorker, The San Francisco Examiner, Salon.com, and Rolling Stone and he is currently writing a biography of Victor Fleming for Pantheon.
Praise For Cinema by the Bay…
From San Francisco magazine, June 2006:

"...until recently few writers had bothered to catalog the filmic history of the most picturesque city in the world...it's a blast to riffle through this gorgeous volume, with its large color stills from films we all love. Even better, Avni provides lots of tasty insider anecdotes."

From 7x7 magazine, June 2006:

"Cinema By the Bay offers an in-depth look at the bay area film business, profiling the studios behind such classics as The Godfather (American Zoetrope), One Flew Over the Cuckoo's Nest (The Saul Zaentz Company) and the big daddy--Star Wars (Lucasfilm Ltd)."

From SF360.org (IFC/IndieWire), June 15, 2006:

"With Cinema By the Bay, Sheerly Avni has created not so much a coffee-table book, as a depth-charge desktop tome: You may want to get wired enough to finish it in one long sitting. This first title from George Lucas Books is a rich, visual history of San Francisco Bay Area filmmaking that doesn't just roll from A to Z (from American to Zoetrope), but digs up the Northern California roots of motion pictures themselves (from Muybridge to Von Stroheim, courtesy of an elegant essay by former San Francisco film critic Michael Sragow. Alongside the cornerstones of the historical NoCal industry--Zaentz and Zoetrope, Lucasfilm, Pixar, and PDI--are page after page of directors (Carroll Ballard, Joan Chen, Clint Eastwood, Rob Nilsson, Henry Selick, Terry Zwigoff) who've helped San Francisco maintain its status as a creative outpost."

From Sci Fi Magazine, the official magazine of the Sci Fi Channel, August 2006:

"Cinema By the Bay", the first release from the publishing arm of the still-growing George Lucas entertainment empire, is an affectionate look at the community of major filmmakers who base themselves in San Francisco and environs rather than in that glitzier production hub further down the coast....fun to page through, but the book is significantly more novel in those sections covering moviemakers and films that haven't had more than their share of coffee-table books. Clint Eastwood...Philip Kaufman...Michael Ritchie...Extreme collectors may want to snap up the signed and numbered limited edition, which includes the signatures of George Lucas, Francis Ford Coppola and Saul Zaentz."

From East Bay express, May, 2006:

"Tom Selleck was originally pegged to play Indiana Jones, as Sheerly Avni reveals in Cinema by the Bay (JAK, $39.95), the most beautiful coffee-table book about the most beautiful films made in the most beautiful spot on Earth. Lustrous photographs augment inside scoops on a dozen directors' careers…"

From the UK's Empire Magazine, June 2006 rated Five of Five Stars:

"… Avni's book does a terrific job in capturing the heady sense of creative buzz that envelopes Frisco's filmmaking fraternity and exploring the Bay Area's diverse output. While this is the first book from the George Lucas Books imprint, the scope goes way beyond Star Wars. We are treated to an in-depth analysis of the key studios … and directors …. Each study is laced with nifty potted histories, detailed studies of every film, a useful timeline and tons of trivia; who kenew that PDI animated a segment of a Simpsons Halloween episode for free? En route, the book highlights some forgotten talents and unknown artists. The tone is enthusiastic without sacrificing insight and intelligence and is also not afraid to get gritty …. Essential reading for anyone who loves great cinema."
or
Not Currently Available for Direct Purchase