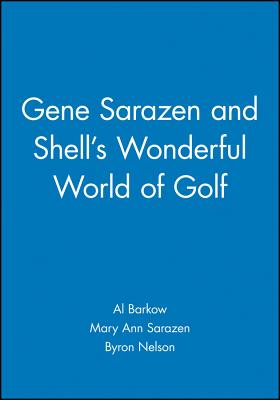 Gene Sarazen and Shell's Wonderful World of Golf (Hardcover)
Clock Tower Press, 9781932202052, 159pp.
Publication Date: October 15, 2003
Description
Behind-the-scenes story of this ground-breaking golf show from the birth of televised sports, as witnessed by the show's writer, Barkow, and host Sarazen's daughter. Includes 50 historical photos and 15 private letters to the legendary golfer Bobby Jones.
About the Author
Mary Ann Sarazen, the daughter of Gene Sarazen, oversees the Gene and Mary Sarazen Foundation, and is on the board of the Gene and Mary Sarazen Scholarship Fund at Siena College, in Loudonville, New York. She lives in Florida during the winter and in New Hampshire during the summer. Al Barkow has been writing on golf for over 40 years. He was the golf writer and associate producer of the original Shell's Wonderful World of Golf television program; editor-in-chief of Golf and Golf Illustrated magazines; author of numerous books on golf, including Golf's Golden Grind: the History of the Tour, Getting' to the Dance Floor: an Oral History of American Golf (1986 USGA International Book Award winner), The Golden Era of Golf, and most recently, That's Golf, a compilation of his writings. He has published articles in numerous magazines and newspapers, including Sports Illustrated, Golf Digest, Golf Magazine, The New York Times, Travel & Leisure, and The Wall Street Journal. Barkow also appeared for many years as a commentator on Inside the PGA Tour and The Senior PGA Tour television shows. He resides in Albany, California.
Advertisement