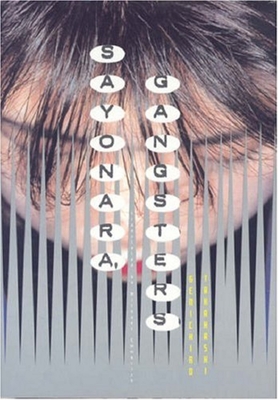 Sayonara, Gangsters (Hardcover)
Veritcal, 9781932234053, 311pp.
Publication Date: April 1, 2004
Description
If you've ever despaired of expressing yourself, you'll read Sayonara, Gangsters and understand. Set in a facetious near-future that is both mind-bendingly bizarre and achingly familiar. Sayonara, Gangsters is an inventive novel about language, expression and the creative process that unfolds through hilarious sketches. The peaceful if bizarre life of a poetry teacher is forever transformed by a group of terrorists called "the gangsters" in what is, incredibly, a semi-autobiographical novel.
On this literary gonzo trip in which a man of letters finds out, too late, that flirting with extremist politics can have unsavory conequences for one's mind, we encounter the likes of Virgil, the refrigerator (a memorable three-dimesional character) and "Henry IV" the feline aficionado of books. Endlessly resourceful, relentlessly erudite, but always accessible, Sayonara, Gangsters is a unique masterpiece of literary postmodernism that aims to entertain rather than to intimidate.
From the outrageous beginning, which reads like an oblique reference to the war on terror but is no such thing (it was written more than twenty years ago), to the sobering, devastating end, through the lyrical, poignant middle, Takahashi's legendary first novel is candy for your brain. Sayonara, Gangsters is a must-read for all fans of world literature, available for the first time in English.
About the Author
Genichiro Takahashi never graduated from Yokohama National University. As a student radical, he was arrested and spent half a year in prison, a harrowing experience that rendered him incapable of reading or writing for several years. Sayonara, Gangsters took the literary establishment by storm and remains one of the summits of postmodern writing in Japanese or any other language. Winner of the Mishima and other coveted literary awards, Takahashi has been the best-kept secret of readers of Japanese. Sayonara, Gangsters is his first full-length work to be published in English.
Praise For Sayonara, Gangsters…
"Fabulous...Think of Pynchon with an editor, Donald Barthelme but funnier, or Italo Calvino just as he is." - The Japan Times

"Sayonara, Gangsters is a light, poetic, enjoyable read, full of crafted imagery." - The Onion A.V. Club

"Sayonara, Gangsters, a thrillingly unhinged perpetual-motion machine full of absurd sex and violence, greased with the awesome confidence of a writer so committed to thumbing his nose at convention that he discovers caverns of wonder deep within said schnozz. (...) The least that can be said is that you never know what's coming next." - Ed Park, The Village Voice
Advertisement