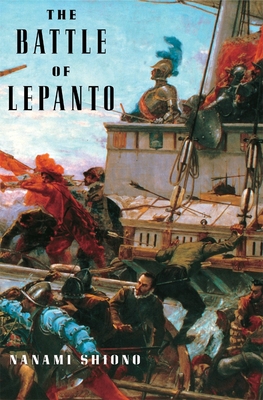 The Battle of Lepanto (Eastern Mediterranean Trilogy)
Hardcover

* Individual store prices may vary.
Description
For over a century after the fall of Constantinople in 1453, the Ottoman Empire enjoyed an almost unbroken series of victories in Eastern Europe and throughout the Eastern Mediterranean. In 1571, the Republic of Venice and Pope Pius V worked together to assemble an alliance of European powers to confront the Ottoman navy in the Aegean and Mediterranean Seas. This "Holy League" was driven, and almost torn apart, by a set of diverse and often competing motivations, but for one brief moment it was able to put aside its differences and raise a unified front against the massive Ottoman fleet at the Battle of Lepanto. The outcome of that battle would have far-reaching consequences for Europe, for the Ottoman Empire and indeed for world history.
Vertical, 9781932234336, 240pp.
Publication Date: January 23, 2007
About the Author
Nanami Shiono is the preeminent author of popular history in Japanese today. In survey after survey, the most powerful Japanese politicians and industrialists (many of whom she counts as personal friends) name her as their favorite author, and she enjoys a degree of influence in public discourse that few authors anywhere could hope to match. In 1970, the same year she won the first of many literary awards for her early masterpiece Cesare Borgia, or Elegant Cruelty, she moved permanently to her adopted home of Italy. Although she first rose to prominence as an author of works set in Renaissance Italy, her expertise has widened to include the Mediterranean as a whole, as well as ancient Rome (which she treats in her bestselling fifteen-volume history, The Tale of the Romans). The East Mediterranean Trilogy, completed in 1987, remains among her most enduringly popular works. The first volume, The Fall of Constantinople, is available from Vertical, as well as The Siege of Rhodes and the last volume, The Battle of Lepanto.
or
Not Currently Available for Direct Purchase