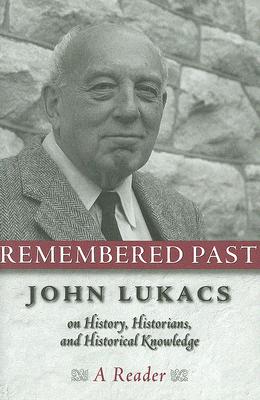 Remembered Past
John Lukacs On History Historians & Historical Knowledg
Hardcover

* Individual store prices may vary.
Other Editions of This Title:
Paperback (3/31/2005)
Description
Among the most accomplished historians of his generation, John Lukacs has written more than twenty books and hundreds of essays and reviews. His scholarship encompasses the history of the modern age, focusing especially on the political, ideological, intellectual, and military struggles of the twentieth century. Integral to that project has been Lukacs's effort to clarify and interpret the evolution of thought and consciousness during the approximately 500 years that constitute "modern" history. As the modern age passes, as the institutions, ideas, values, and experiences that composed the life of the era recede and disappear, Lukacs has assumed the responsibility to "think about thinking." And for Lukacs, no aspect of thought is more important to understanding the modern age than the emergence of historical consciousness. Remembered Past: John Lukacs on History, Historians, and Historical Knowledge: A Reader draws together Lukacs's scattered and diverse writings on history. The volume serves at once as an introduction to this essential aspect of Lukacs's thought and an indispensable compendium of his most important writings on the subject. In the essays, reviews, commentaries, and book chapters collected in Remembered Past, Lukacs addresses the problem of historical knowledge, evaluates the contributions of historians and writers who have used, and often abused, history, and examines the significance of place in developing a sense of the past. He concludes with a consideration of the twentieth century and the task of reading, writing, and teaching history. Significantly, this authorized "reader" also includes a complete bibliography of Lukacs?s writings through 2003.
Praise For Remembered Past: John Lukacs On History Historians & Historical Knowledg…
"John Lukacs is an original. His opinions, whether on Winston Churchill, Tom Wolfe, or Alexis de Tocqueville, are stimulating, infuriating, profound, never dull. He is a marvelously agile writer who provides the reader great pleasure while he takes him plumbing for the truth."-Witold Rybczynski, University of Pennsylvania

"John Lukacs, a premier intellectual and a historian of enviable breadth and depth, is as wise, witty, and penetrating as he is sometimes infuriating. With clarity, grace, and power, he illuminates the course of modern history, while he disposes of the cant, fads, and silliness that mark much of today?s historical writing."-Eugene D. Genovese, author, Roll, Jordan, Roll: The World the Slaves Made

"It was about time that a John Lukacs Reader should be brought out, to show the public the range and depth of this great living historian?s contribution to knowledge, his importance as a thinker and attractiveness as a narrator of events. The editors? generous selection of types of work and subjects warrants changing Reader to Treasury."-Jacques Barzun, author, From Dawn to Decadence: 500 Years of Western Cultural Life, 1500 to the Present
Intercollegiate Studies Institute, 9781932236279, 900pp.
Publication Date: March 31, 2005
About the Author
John Lukacs Was born in Budapest, in 1924, came to the United States in 1946. Until his retirement, he taught history at Chestnut Hill College near Philadelphia. He also held visiting professorships at Columbia, Johns Hopkins, Tufts, and the University of Pennsylvania. A prolific writer, Lukacs's best-known works include The Duel (Yale University Press, 2001), Five Days in London (Yale Nota Bene, 2001), The End of the Twentieth Century and the End of the Modern Age (Ticknor & Fields, 1993), A Thread of Years (Yale University Press, 1999), and Historical Consciousness (Transaction Publishers, 1994).
or
Not Currently Available for Direct Purchase