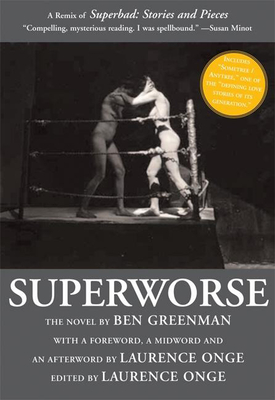 Superworse: The Novel: A Remix of Superbad: Stories and Pieces (Paperback)
The Novel: A Remix of Superbad: Stories and Pieces
Soft Skull Press, 9781932360134, 155pp.
Publication Date: December 19, 2003
Description
The original hardcover Superbad from McSweeney's was a collection of two dozen pieces ranging from postmodern satire to more serious fiction. The lot of it has been remixed much like popular music and reprinted in trade paper. The result: a challenging novel with a clear set of themes and characters, tightly constructed and intricately interwoven. As Susan Minot writes, Greenman's mind is hard to pin down and can be likened to that of "a Russian short story writer, a slapstick gag writer, an art critic, a literary critic, a cultural commentator, a cowboy, a satirist, a scientist ... a surrealist, a nut and genius, a stand-up comedian, a child prodigy, a dreamer, and a poet."
Advertisement