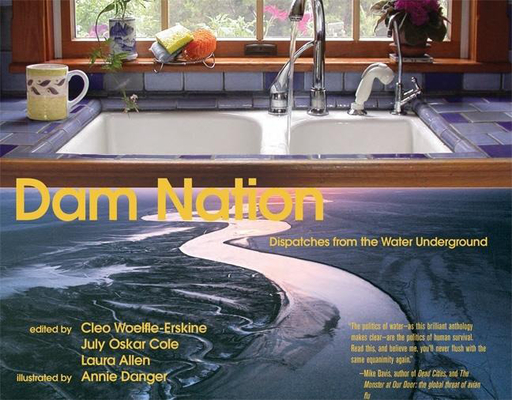 Dam Nation
Dispatches from the Water Underground
Paperback

* Individual store prices may vary.
Description
Dam Nation combines environmental victories in the sustainable use movement with hands-on, participatory options for country and city dwellers. Not just a how to but a why to, the book begins with the story of dams in the American West--a story in which millions of acres of perfect farmland were flooded in order to irrigate the marginal land that--due to the same natural process that destroyed several ancient Native American civilizations--would turn the area into the Dust Bowl. Cleo Woelfle-Erskine and Laura Allen, both restoration activists and educators, demand a different approach for American watersheds and taxpayers. Through their own experiments with alternative water systems and thousands of hours of interviews with innovators from around the world, they create a comprehensive game plan for reusing household water, constructing miniature wetlands and improving our communities physical and political health. From people building protest villages atop dams in Thailand to activist entrepreneurs in Mexico and Africa, to Spanish squatter-gardeners, Native American restorationists and wetlands activists battling bureaucracy in Louisiana and California; To the Last Drop gives voice to the water warriors battling for a sane relationship to our most essential shared resource.
Soft Skull Press, 9781932360806, 321pp.
Publication Date: March 1, 2007
About the Author
Cleo Woelfle-Erskine is a hydrologist, educator, and scholar of water. He co-founded the Greywater Guerrillas, and has led dozens of community-based workshops on rainwater harvesting and greywater reuse across North America. His writing on dam removal, environmental justice, and urban gardening has appeared in High Country News and Yes, among other magazines, and in the anthologies Urban Wilds and Dam Nation: Dispatches from the Water Underground. An avid gardener, Cleo is also earned a PhD in the Energy and Resources group at UC Berkeley, where he investigated how rainwater harvesting affects streamflow. He is Assistant Professor, School of Marine & Environmental Affairs, at University of Washington.
or
Not Currently Available for Direct Purchase