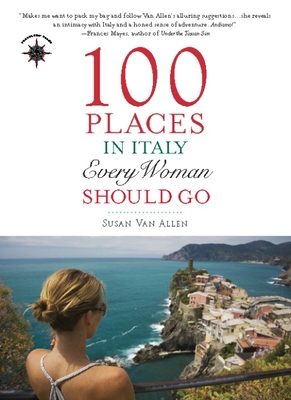 100 Places in Italy Every Woman Should Go (Paperback)
Travelers' Tales, 9781932361650, 456pp.
Publication Date: November 1, 2009
* Individual store prices may vary.
or
Not Currently Available for Direct Purchase
Description
Imagine creating your Italian dream vacation with a fun-loving savvy traveler girlfriend whispering in your ear. Go along with writer Susan Van Allen on a femme-friendly ride up and down the boot, to explore this extraordinarily enchanting country where Venus (Vixen Goddess of Love and Beauty) and The Madonna (Nurturing Mother of Compassion) reign side-by-side. With humor, passion, and practical details, this uniquely anecdotal guidebook will enrich your Italian days.

Enjoy masterpieces of art that glorify womanly curves, join a cooking class taught by revered grandmas, shop for ceramics, ski in the Dolomites, or paint a Tuscan landscape. Make your vacation a string of Golden Days, by pairing your experience with the very best restaurant nearby, so sensual pleasures harmonize and you simply bask in the glow of bell'Italia.

Whatever your mood or budget, whether it's your first or your twenty-first visit, with 100 Places in Italy Every Woman Should Go, Italy opens her heart to you.
About the Author
Susan Van Allen has written about Italian travel for over twenty-five media outlets, including National Public Radio, Town & Country, Student Traveler, Chicago Daily Herald, San Diego Tribune, CNN.com, and Travelers' Tales anthologies, and has a following for her monthly Letters from Italy column on the Divine Caroline web-site. A native of the New Jersey shore, when Van Allen's not in Italy she lives in Los Angeles with her husband and writes for television. She was on staff of the Emmy award winning sit com Everybody Loves Raymond.
Praise For 100 Places in Italy Every Woman Should Go…
"This book makes me want to pack my bag with the lightest of clothing and follow Susan Van Allen's alluring suggestions for traveling in Italy. Her knowledge reveals an intimacy with the country and a honed sense of adventure. Andiamo!"
—Frances Mayes, author of Under the Tuscan Sun

"Van Allen warms the room with her memories and imagination…precise and true."
—The New York Times

"It's as if Van Allen has left us a trail of succulent ravioli crisscrossing the country, and we follow along gleefully, nibbling on one delightful, enlightening morsel after another."
—Nan McElroy, author of Italy: Instructions for Use

"I've just returned from six weeks in Italy and how I wish I'd had Van Allen's book. It positively sparkles with delight in all matters female, which, it turns out, is an optimal way to reveal particularly delicious matters Italian. Italy has a new portrait: sexy and savvy. Makes a gal smile in English and Italian, to eat up this compendium of Italy's most delectable women's outings."
—Anne Calcagno, author of Pray for Yourself and editor of Travelers' Tales Italy

"I knew that Italy was the land of la dolce vita and far niente, but this is the first book to present an organized way to find your way through her earthly and soulful wonders. I want all my girlfriends to have a copy of 100 Places."
—Camille Cusumano, editor of Italy, A Love Story

"A wonderful gift for any woman traveling to Italy. With Van Allen's advice you won't be overwhelmed and you'll discover how nurturing it is to travel in a country that has honored us since we all descended from Venus."
—Marybeth Bond, author of Gutsy Women and Best Girlfriends Getaways Worldwide

"Part guidebook, part history, and part manual to the good life in the land of La Dolce Vita, Susan Van Allen's magnum opus on all things Italian is essential reading for women (and men) who either want to get the most out of their next trip or want to be spirited back to their last."
—David Farley, author of An Irreverent Curiosity: In Search of the Church's Strangest Relic in Italy's Oddest Town

"Susan Van Allen's writing makes the magic of Italy jump off the page. She has a knack for capturing the charms, quirks, and authenticity of this magnificent land. Don't go to Italy without reading this!"
—Kathy McCabe, editor and publisher, Dream of Italy Travel Newsletter

"That old Freudian chestnut—'What do women really want?!'—has been answered once again in yet another appealing Travelers' Tales opus specifically designed for women. In this instance, Susan Van Allen has romped through an Italy replete with seductive goddesses and female saints, architectural wonders, beauty spas, entrancing beaches, shopping sprees and craft/cultural courses, and picked the very best, mixing dreamy delights with drops of dainty decadence. Van Allen suggests readers: 'treat this book like a cookbook…and make a full meal of it.' She obviously did. You could—and you should."
—David Yeadon, author of Seasons in Basilicata and The Way of the Wanderer

"Forget throwing that coin in the fountain. No matter how many times you've been to Italy and think you know it, reading Susan Van Allen's 100 Places in Italy Every Woman Should Go almost guarantees a return trip. Now I must visit Siena, not for the Palio, but because it was here that St. Catherine bucked family expectations and proclaimed her commitment to Christ, thereby becoming a medieval woman to be reckoned with. Susan took her exhaustive research and whipped up a delightful book you'll only put down long enough to check the flights to that fascinating country."
—Carol Coviello-Malzone, author of Flavors of Rome: How What & Where to Eat in the Eternal City
Advertisement