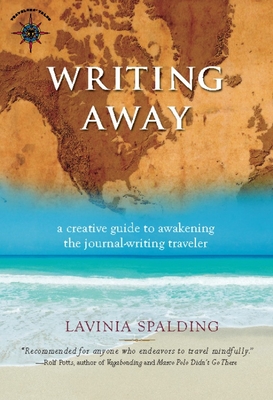 Writing Away
A Creative Guide to Awakening the Journal-Writing Traveler (Travelers' Tales Guides)
Paperback

* Individual store prices may vary.
Other Editions of This Title:
Hardcover (4/3/2018)
Description
Two major trends have recently swept the travel world: the first, an overwhelming desire (thanks to Elizabeth Gilbert's bestseller, Eat, Pray, Love) to write one's own memoir; the second, an explosion of social media, blogs, twitter and texts, which allow travelers to document and share their experiences instantaneously. Thus, the act of chronicling one's journey has never been more popular, nor the urge stronger. Writing Away: A Creative Guide to Awakening the Journal-Writing Traveler, will inspire budding memoirists and jetsetting scribes alike. But Writing Away doesn't stop there--author Lavinia Spalding spins the romantic tradition of keeping a travelogue into a modern, witty adventure in awareness, introducing the traditional handwritten journal as a profoundly valuable tool for self-discovery, artistic expression, and spiritual growth. Writing Away teaches you to embrace mishaps in order to enrich your travel experience, recognize in advance what you want to remember, tap into all your senses, and connect with the physical world in an increasingly technological age. It helps you overcome writer's block and procrastination; tackle the discipline, routine, structure, and momentum that are crucial to the creative process; and it demonstrates how traveling--while keeping a journal along the way--is the world's most valuable writing exercise.

Praise For Writing Away: A Creative Guide to Awakening the Journal-Writing Traveler (Travelers' Tales Guides)…
Spalding reminds us to journey conscientiously, to arrive awakened, and to write with all our hearts. This is a beautifully vital antidote to the frenetic buzz of blogging and texting, to be savored and shared." Alexandra Fuller, author of Don't Let's Go to the Dogs Tonight and The Legend of Colton H. Bryant

Lavinia Spalding has given travelers a witty, profound, and accessible exploration of the hows and whys of keeping a journal. Novices and veterans alike will find inspiration and fresh ideas on every page, along with practical suggestions to bring out the best writer in anyone. Buy two copiesone to meditate on at home and another to dogear, underline and carry alongside your own journal en route." Anthony Weller, author of The Siege of Salt Cove and Days and Nights on the Grand Trunk Road.

Spalding doesn't just give you ideas for keeping a travel journalshe makes a convincing case for why keeping a travel journal is important, and how this personal writing ritual can deepen your journey in unexpected ways. Recommended for anyone who endeavors to travel mindfully. Rolf Potts, author of Vagabonding and Marco Polo Didn't Go There
Travelers' Tales, 9781932361674, 242pp.
Publication Date: August 1, 2009
About the Author
Lavinia Spalding is author of With a Measure of Grace, the Story and Recipes of a Small Town Restaurant. She is a regular contributor to Yoga Journal, and her work has appeared in such publications as Sunset Magazine, Post Road, CitySmart, and Inkwell. Although her inextinguishable wanderlust prevents her from ever really staying put, she currently lives in San Francisco.