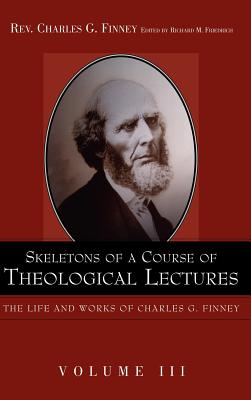 Skeletons of a Course of Theological Lectures.
Hardcover

* Individual store prices may vary.
Description
These lectures contain as full an outline of Theological Study as we have hitherto been able to fill up in our discussions and investigations, during the three years allotted to Theological Instruction in this Institution Oberlin, 1840]. . . My design was at first, not to publish, but barely to print a small number of copies exclusively for the use of the students. But as it was supposed that others would desire to possess them, I have consented to their publication, reminding my readers that they are a bare skeleton of the course of Theological study here pursued. The skeletons of these lectures have heretofore been copied out by each student as a kind of memoranda, to which he might in future refer, to refresh his memory. This has cost so much labor, that the students have earnestly solicited their publication. For their use and benefit, they are therefore principally intended. . . They are designed as memoranda, as the summing up of previous discussions, thought, and investigation, rather than as essays from which Theological information is to be derived. . . It has been no part of my design to relieve the student from the necessity of deep study, research, and original investigation upon every topic in Theology. . . I have intended so to shape these skeletons, that those who understand them, should have a general, and pretty thorough acquaintance with Theology, as a science, so as not to be at a loss for an answer to almost any question upon Theological subjects. To the superficial and unpracticed Theologian, many things that I have said, will of course be unintelligible. But those who think, and love to think, will, I hope, be able to understand them. CHARLES G. FINNEY (1792-1875) was America's foremost evangelist. Over half a million people were soundly converted under his personal ministry in a day when there was no TV or microphones. He was also an excellent theologian, philosopher, educator, pastor and reformer while professor of theology and president of Oberlin College. Harvard's Perry Miller said, "Finney led America out of the eighteenth century." He is remembered, according to Harvard's W. G. McLoughlin, for his "textbook on how to promote revivals of religion. This book is the perennial classic to which all succeeding generations of revivalists have turned for authority and inspiration." He was also a father to the evangelical and holiness movements.
Alethea in Heart, 9781932370522, 328pp.
Publication Date: May 4, 2005