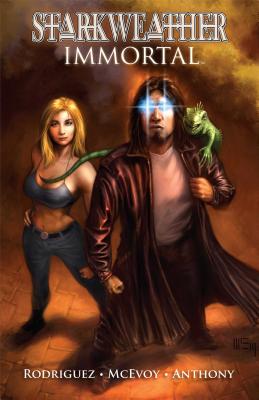 Starkweather (Hardcover)
Immortal (Sharkweather)
Archaia, 9781932386684, 144pp.
Publication Date: October 1, 2010
* Individual store prices may vary.
Description
Today, witches are hunted at every turn. The Twelve Great Houses have collapsed under betrayal and infighting; they have abandoned their charges, forsaking the very source of their gifts. They teeter on the brink of extinction and their best chance at survival -- a five-year-old boy with enough power to topple mountains -- disappeared 15 years ago. That boy has become a man who doesn't remember what he was. The very spell that was woven to hide him from the world also has hidden his true self, leaving him a directionless disappointment who wants nothing more than to spend his life in wonderful obscurity. It is Alexander Starkweather's destiny to restore the Divine Blood to power and lead them into a new age. But before he can become a witch, he must learn what it means to be a man. Collects and completes the Starkweather: Immortal series.
About the Author
David A. Rodriguez has been a professional writer and video game designer for the past ten years and started his comics career with the release of the first Starkweather series from Arcana Comics. In addition to writing the current iteration, Starkweather: Immortal for Archaia, David co-created and continues to write for the popular webcomic Shadowgirls which is celebrating the release of its massive 240 page, Season: One, hardcover from Th3rd World Studios! David also has written for video games such as Hunter: The Reckoning, Ghost Recon and Transformers. In what he jokingly refers to as his spare time, he directs voice actors for multiple motion-comic projects. David currently resides in New York with wife and son and wants to thank them for their support and forbearance.
or
Not Currently Available for Direct Purchase