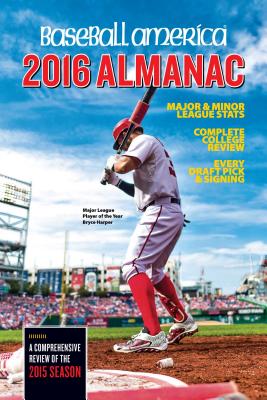 Baseball America 2016 Almanac (Paperback)
Comprehensive Review of the 2015 Season (Baseball America's Almanac)
Baseball America, 9781932391602, 528pp.
Publication Date: January 5, 2016
* Individual store prices may vary.
Description
Always the best baseball annual, and now the only book that sums up the year in baseball from the majors to the minors and down through every amateur level as well. Numbers and commentary to help fans recall all the great moments from the season that was 2015. The 2015 baseball season was one to remember, and on book offers you a more complete recap of the year than the Baseball America Almanac, which takes you all the way from winter ball to the World Series. The 2015 Almanac has all the major and minor league news and statistics, a review of every organization's season, comprehensive college coverage, a full recap of the 2015 draft, high school and youth baseball news, and even foreign and winter league coverage.
About the Author
Baseball America is the first name in baseball coverage at every level of the game, and Baseball America's entire editorial staff contributes to the Almanac. Longtime news editor Josh Leventhal coordinates and edits the book.