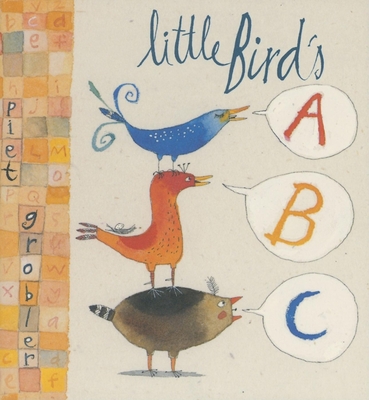 Little Bird's ABC
Hardcover

* Individual store prices may vary.
Description
A is for Apple, B is for Boy, right? Not according to these little birds A is for a jumping bird's cry of Alley-oop H is for the sound a bird makes when it sneezes---Ha-choo T is for a woodpecker's Tok tok. Readers of all ages will be surprised and amused twenty-six times by the silly sounds that little birds make in this charming, whimsical alphabet book.
Praise For Little Bird's ABC…
Publishers Weekly
(08/15/2005):
Elegantly impish watercolors and a soupç on of naughty humor make this one of the freshest primers in quite some time. An aviary of precisely inked and improbably feathered friends (think A.O. Blechman filtered through the sensibilities of fashion illustration) scampers through the alphabet against a crisp white background. The hand-size hardcover format lends the proceedings the cozy, silly intimacy of a tickle. Grobler ("Carnival of the Animals") varies his approach to the letters: some spreads capitalize on the shape, some opt for the sound and some do a kind of double duty. "F" is the first letter of the "Ffftt...." emitted from a contented bird's derriè re after eating beans; "T" is for the "Tok-tok-tok" sound made by a woodpecker-type bird hacking at the letter's trunk in pursuit of a fat ladybug. A few letter treatments are predictable or opaque ("Z" connotes the snores of a sleeping bird, "X" seems to stand for a feathered daredevil's demise), but most bubble with a puckishness that's certain to win the hearts of even veteran abecedarians. All ages. "(Sept.)" Copyright 2005 Reed Business Information.
School Library Journal (12/01/2005):
PreS-Gr 3 -An appealing avian crew stars in this alphabet of sounds. These birds are brimming with personality and playfulness, conveyed through a rich variety of color, pose, and facial expression in the line-and-watercolor art. Each verso presents the upper- and lowercase versions of a letter, along with a picture; the action is completed on the right, with the appropriate sound or words spelled out. A mischievous woodpecker, for instance, clings to a capital -T - as a ladybug crawls across the top. On the ensuing page, the bird breaks the letter - -Tok-tok-tok - -and the insect topples off. -Uh-oh! - describes a little guy that gets caught pecking the egg of a much larger bird, while -Doink! - is the sound of an apple that beans a fanciful bird; the -Ffftt -& - that comes from still another's rear should elicit embarrassed giggles from children. In most cases, readers encounter a new bird with each page turn, but a few stick around. A multicolored fellow gives an -Mmmm -& - while unearthing a worm at -M - and adds -Nice worm! - on the following spread as it swallows its victim. Creative use of line and color makes each illustration a pleasant surprise, while sounds/words such as -Iiiee!! - and -Vroom, vroom! - are unexpected. With its small, square size and deceptively simple look, this is an inspired and original entry." -Steven Engelfried, Beaverton City Library, OR" Copyright 2005 Reed Business Information.
Booklist (11/15/2005):
PreS. Even for the youngest audience, some human sounds and expressions, such as " Grrr," " Mmmm, "and " Zzzz, "need no translation. South African Afrikaans artist Grobler illustrates them in a small, square book that depicts a tiny bird in action. Not all the words are pure sounds (" J" is for "Jeepers creepers"; " N" is for "Nice worm"), but the lovely, simple, line-and-watercolor sketches show slapstick scenarios that even toddlers will recognize and words (" doink," " plop") they will want to shout out loud. Along with the silliness, preschoolers will get an important introduction to reading--not the names of the letters, but the sounds--and the fun.(Reprinted with permission of Booklist, copyright 2005, American Library Association.)
Lemniscaat USA, 9781932425529, 52pp.
Publication Date: September 1, 2005
About the Author
Piet Grober was born in Nylstroom, Limpopo Province, South Africa, and grew up on a a farm in Warmbaths area, the eldest of five children. He has lived in Stellenbosch since 1989 with his wife Marietjie, who is a music teacher and musicologist and his baby daughter Catherina (and cat Rottie). He studied theology at the University of Pretoria and was a minister of religion from 1985 to 1989. Following that he studied graphic design and journalism and worked as a graphic designer and editor in the field of advertising and publications. Piet has been a free-lance artist and illustrator since 1996. Now a well-established artist, he has won many national and international prizes. These include a silver medal at the Noma Concours in 1997 for "Here I Am "(1996), the Octogone de Chne in 1999 and the Primo Alpi Apuane in 2000 for "Carnival of the Animals "(1998) as well as the Tiene Holloway Medal in 1997 for "Rhinocephants on the Roof "(1996).
or
Not Currently Available for Direct Purchase