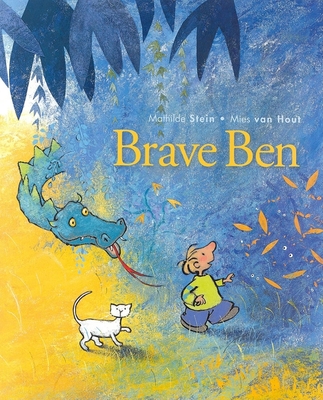 Brave Ben (Hardcover)
Lemniscaat USA, 9781932425642, 32pp.
Publication Date: March 1, 2006
Description
Ben is scared of everything: of the girl who cuts in front of him at the bakery, of people in the street who laugh at his favorite pair of flowered overalls, and especially of the spook underneath his bed.  In his search for help with his problem, Ben finds that hi is braver than he thought.
About the Author
Mathilde Stein studied at the Arts Academy in France. She currently works as a communication and organization adviser. She loves writing for children, and she plans on staying a child for a long time-"at least until I am eighty-three, and then we'll see!" she says. "Brave Ben " is her first children's book.
Praise For Brave Ben…
School of Library Journal
"While the fun and quirky text will keep readers and listeners engaged, the illustrations truly bring the story to life. Irresistibly detailed cartoon characters in black outlines pop out of the fuzzy, rich-toned background paintings, creating pages that readers will want to pore over. ... Ben's story is a delightful one."
Booklist
"Visually striking. ... The double-page paintings will read well from a distance, with elements that garner both goosebumps and giggles (a dragon wears a Band-Aid; a witch sports pink houseslippers). Try this in the context of classroom discussions of emotions."
Kirkus
"Muted watercolors full of quirky details. ... Wry... with a nice lesson."
Advertisement