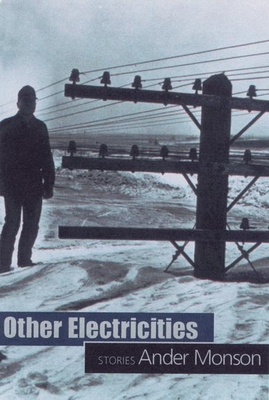 Other Electricities
Stories
Paperback

* Individual store prices may vary.
Description
Uncompromising, hypnotic and darkly humorous, Other Electricities charts a new and strange direction in American fiction.
"Like Franklin's discovery of the electricity we do know, Monson's luminous, galvanized book represents a paradigm shift. The frequencies of the novel have been scrambled and redefined by this elegant experiment. Other Electricities is a new physics of prose, a lyric string theory of charged and sparkling sentences. What a kite What a key "--Michael Martone
"Monson is tuned in to our crackling, chaotic, juiced-up times like no other young writer I know. Other Electricities is necessary reading."--Robert Olen Butler
Meet "Yr Protagonist" radio amateur, sometime vandal and "at times, perhaps the author" of Monson's category-defying collection:
I know about phones. While our dad was upstairs broadcasting something to the world, and we were listening in, or trying to find his frequency and listen to his voice . . . we would give up and go out in the snow with a phone rigged with alligator clips so we could listen in on others' conversations. There's something nearly sexual about this, hearing what other people are saying to their lovers, children, cousins, psychics, pastors. . . .
The cumulative effect of this stunningly original collection seems to work on the reader in the same way--we follow glimpses of dispossessed lives in the snow-buried reaches of Michigan's Keweenaw Peninsula, where nearly everyone seems to be slipping away under the ice to disappear forever. Through an unsettling, almost crazed gestalt of sketches, short stories, lists, indices and radio schematics, Monson presents a world where weather, landscape, radio waves and electricity are characters in themselves, affecting a community held together by the memories of those they have lost.
Ander Monson is the editor of DIAGRAM and the New Michigan Press. He teaches at Grand Valley State University and lives in Michigan. Tupelo Press recently published his poetry collection, Elegies for Descent and Dreams of Weather.
Sarabande Books, 9781932511154, 224pp.
Publication Date: May 1, 2005
About the Author
Ander Monson is the author of three published books (Neck Deep and Other Predicaments, Other Electricities, Vacationland), and one forthcoming (Vanishing Point, Graywolf, 2010). He is the editor DIAGRAM Magazine and the New Michigan Press. Though he lives in Tucson where he teaches at the University of Arizona, his heart still resides thirty hours northeast by car.
or
Not Currently Available for Direct Purchase