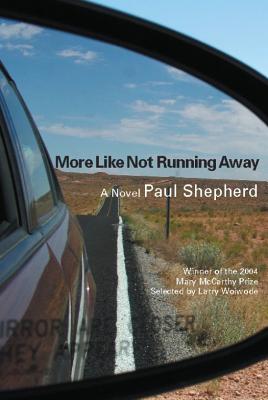 More Like Not Running Away (Paperback)
Sarabande Books, 9781932511284, 248pp.
Publication Date: December 1, 2005
Description
A] haunting novel. . . . This book brims with the poetry of the working class, seldom sung lyrics of working men and women.--from the introduction by Larry Woiwode
"Shepherd is a master craftsman, and the subtlety of his art, the unassuming elegance of its architecture, rendered me spellbound and finally grateful. I don't think I shall ever forget this fine book, its honest, guileless voice leading me along into the fire."--Bob Shacochis
"A riveting exploration of what it is to be an outsider even in your own head. Shepherd has written a gripping story of childhood angst--psychologically thrilling, lyrically exact."--Janet Burroway
Levi Revel is a boy in danger of losing his family and maybe his mind. He's in awe of his father, Everest, a majestic dreamer, a master builder, a man with a violent, secret past. As the family moves from state to state, Levi hears solace in the voice of God, a voice that sends him preaching from treetops and roofs.
But the family begins to fall apart, and as Levi enters adolescence, he hears more troubling things: other voices, terrifying sounds, warnings. When Everest takes him on a high-speed, cross-country chase to win back Levi's mother--by force if necessary--Levi realizes how much danger they all are in.
Tender and frightening, this debut novel takes readers across America, through the eyes and ears of a child whose family is haunted by a past they can't outrun. From a boy lost in a world of imaginary voices and chilling destruction to a young man who can rebuild steeples, the story Levi tells is the triumph of persistence over moments of isolation and despair.
Paul Shepherd lives in Tallahassee, Florida.
About the Author
Shepherd earned a PhD from Florida State, where he is currently a Writer in Residence. He has also written a poetry book . His community service activities include serving as director of a nonprofit construction company that rehabs older homes for low-income homeowners, working as a Youth Director at a Lutheran Church, and helping found the House of Mercy, an AIDS hospice.
Advertisement