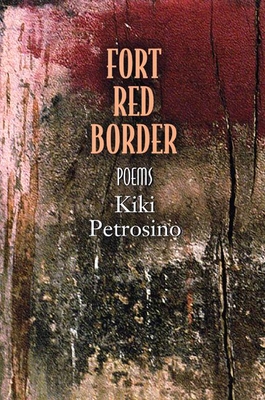 Fort Red Border
Paperback

* Individual store prices may vary.
Description
"Fort Red Border--the title itself an anagram for the name of this remarkable collection's imaginary beloved--shows how language can be pleated, unfolded, and creased all over again into an endless origami of Eros. . . . By turns clowning, worshipful, heartbroken, and Faulknerian, these lyrics transport the reader to a familiar place made utterly strange."--Srikanth Reddy
Kiki Petrosino has audacity to spare. She devotes the entire first section of her debut collection of poems to a putative affair the speaker is conducting with an imaginary Robert Redford. In the poems, Redford is solicitous of the speaker, as well as curious about her "difference," probing her about the various meanings of "natural" when applied to her African-American hair. The poems' hilarity and poignancy issue from the speaker's distance from, and yearning toward, the center of mainstream culture. Redford serves as ideal partner, the embodiment of American masculinity--but there is also an odd tenderness and actuality to the relationship. In these poems Petrosino is fearless, proceeding from the recognizable terrain of daily life's emotions rather than seeking refuge in the cool of mere obscurity. Petrosino's poems scout a new path, one that discovers a believably fierce, vivid, feeling self.
Kiki Petrosino
is the author of
Fort Red Border
(Sarabande, 2009) and
Hymn For The Black Terrific
(Sarabande, 2013), and the co-editor of
Transom
, an independent on-line poetry journal. She holds graduate degrees from the University of Chicago and the Iowa Writer's Workshop. Her poems have appeared in
Tin House, FENCE, Jubilat, Gulf Coast
, and
The New York Times
. Petrosino teaches creative writing at the University of Louisville.
Praise For Fort Red Border…
The age-old predicament of loneliness is crucial to the flavor of these poems, which use humor as a conduit to remarkably tender moments. What is perhaps most exciting about this succulent collection is that it clearly comes from a person enjoying herself. . . . As readers, we can feel grateful that Petrosino is somewhere in Iowa, doggedly building bridges with her distinctive brand of paper Valentine".
American Poet

The wound at the center of Kiki Petrosino's remarkable debut is the gap between the dished-out givens of reality and the words and worlds we customize" out of desire.Each of the book's three sections dramatizes how even in our high-flying fantasy lives, the ordinariness of the natural reasserts itself as a source of both limitation, and, paradoxically, extraordinary beauty.
David Gorin, The Believer

Meditating on race and love, Kiki Petrosino's Fort Red Border is a savvy, linguistically nimble, often humorous collection that uses humor's candor to do interesting investigative work into the pressures society exerts on one's private life. . . . Though the sinister is always lurking behind her play, threatening the lightness of her candor and humor, it fails to win out in these poems.
Haines Eason, American Book Review
Sarabande Books, 9781932511741, 87pp.
Publication Date: August 1, 2009
About the Author
Petrosino (28) earned a master's degrees from the University of Chicago and Iowa Writer's Workshop. A young biracial poet of African- and Italian-American decent, she has been praised for her ability to write about race issues in an oblique and humorous fashion. Her work was featured in Best New Poets 2006.
or
Not Currently Available for Direct Purchase