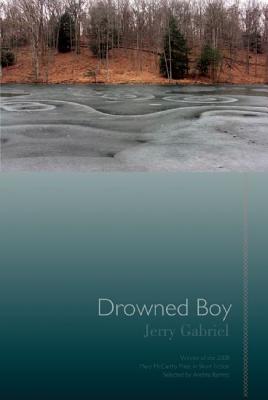 Drowned Boy
Paperback

* Individual store prices may vary.
Description
These stories] are rust-belt blues, then, a vision of and lament for a past time and a swiftly changing place. They're not showy--the language is plain, the tragedy muted, the comedy low-key and wry--but they stick in the mind. Ray Carver would recognize these characters and situations, as would poet Philip Levine. I like to think that they would share my appreciation for this fine first book, built slowly and carefully over some years, and worth the wait.--Andrea Barrett
Jerry Gabriel delivers an unsentimental portrait of rural America in Drowned Boy, a collection of linked stories that reveals a world of brutality, beauty, and danger in the forgotten landscape of small-town basketball tournaments and family reunions. In Boys Industrial School, two brothers track an escaped juvenile convict, while in the titular novella, a young man and woman embark on a haphazard journey to find meaning in the death of a high-school classmate. These stories probe the fraught cusp of adulthood, the frustrations of escape and difference, and the emotional territory of disappointment--set in the hardscrabble borderlands where Appalachia meets the Midwest.
Jerry Gabriel studied at Ohio State University, Northern Arizona University, and the University of Iowa Writers' Workshop. He has worked as a science writer and taught writing at a number of colleges and universities, including, from 2001 to 2008, Cornell University's Engineering Communications Program. Currently, he is a visiting assistant professor of English at St. Mary's College of Maryland.
Praise For Drowned Boy…
In Gabriel's first volume of fiction, the bare and austere landscape is reflected in the tightly written, almost stripped, prose."
Ann H. Fisher, Library Journal

Eight linked stories, set among boys and men in southern Ohio, have the masculine virtues of honest craft and plain, carefully chosen language. The author, who grew up in rural Ohio, put years into writing that sticks with the reader much longer than showier fiction."
Karen R. Long, The Cleveland Plain Dealer

In prose as spare and enchanting as the town's landscape, Gabriel paints a beautiful and sobering portrait of Middle Americans trapped in a world of snow, ice, and inevitability."
Jonathan Fullmer, Booklist

The prose is spare, but hardly minimalistic. . . . if there are slower moments in the earlier stories, they do echo beautifully, not unlike our own memories."
James Tate Hill, Bookslut

Sublime and stark, the stories in Drowned Boy showcase Jerry Gabriel's lean diction, crisp characterization, and exquisite storytelling. Readers eager to experience the very best in contemporary short stories need go no farther than this perfect collection."
Tim Davis, ForeWord Reviews

Gabriel connects all of these stories through location, anchoring them to the lone highway or the river that run through Moraine, Ohio. . . . It's a nuanced and complicated examination of the way grief is contagious, sparking dark emotions in people who initially are barely affected."
Jonathan Messinger, TimeOut Chicago

With the publication of Drowned Boy, his first book of fiction, Jerry Gabriel has produced a devestating vision of the post-industrial experience in the American Midwest. Set in Moraine, Ohio, this powerful collection of stories is reminiscent in both its symmetry and spirit of Sherwood Anderson's classic, Winesburg, Ohio."
Jesse Freedman, Rain Taxi Review of Books

Committed to the experience of youth in a land dark from the rain," Drowned Boy proceeds with unyielding candor, slowly revealing the poverty of post-industrial Ohio. By the end of the this book, I was defenseless against Gabriel's haunting, penetrating prose and prepared to advocate on behalf of his wounded, often desperate characters."
The Literary Review

Ultimately, the novella demonstrates Gabriel's ease with writing a longer story. Drowned Boy'' might make some readers wish that Gabriel had written a novel. However, the collection as a whole refuses tidy conclusions and long-term relationships; it reveals people in isolation with only brief moments of startling connection."
Rachel Bara, Prairie Schooner
Sarabande Books, 9781932511789, 155pp.
Publication Date: January 1, 2010
About the Author
Jerry Gabriel studied at Ohio State, Northern Arizona University and the Iowa Writers' Workshop. He has worked as a science writer and taught writing at a number of universities, including, from 2001-2008, as a lecturer in Cornell University's Engineering Communications Program. Starting in the fall 2008, he will be a visiting assistant professor at St. Mary's College of Maryland.