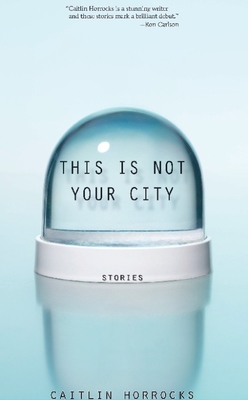 This Is Not Your City
Paperback

* Individual store prices may vary.
Description
Best Books of 2011,
San Francisco ChronicleThe Millions
' A Year in Reading pick
Eleven women confront dramas both everyday and outlandish in Caitlin Horrocks' This Is Not Your City. In stories as darkly comic as they are unflinching, people isolated by geography, emotion, or circumstance cut imperfect paths to peace--they have no other choice. A Russian mail-order bride in Finland is rendered silent by her dislocation and loss of language, the mother of a severely disabled boy writes him postcards he'll never read on a cruise ship held hostage by pirates, and an Iowa actuary wanders among the reincarnations of those she's known in her 127 lives. Horrocks' women find no simple escapes, and their acts of faith and acts of imagination in making do are as shrewd as they are surprising.
Praise For This Is Not Your City…
". . .impressively sharp" and "appealingly rugged-hearted"
Robin Romm, The New York Times

"Horrocks's stories, many of which take place in frozen climatesfrom Finland to upstate Michigan, where she now liveshave the slightly muffled quality of a landscape beneath snow: Their emotional payoff comes gradually. I was moved to tears more than once reading this collection."
Ruth Franklin, The New Republic

"This Is Not Your City offers much more than bold plotlines. These are delicate, character-driven stories whose distinct narrators demonstrate the hand of a remarkably versatile writer . . . Caitlin Horrocks is writing well beyond her years, not only raising our expectations of what a story can do but also setting a high standard for any debut fiction author."
Wayne Harrison, San Francisco Chronicle

"In the 11 stories of her debut collection, Caitlin Horrocks shows inventiveness and linguistic dexterity. There are refreshing takes on old themes: childhood meanness, the effects of devastating illness, the desire for a better life, misunderstandings between parents and their children, looking for love in all the wrong places."
Kathryn Lang, Minneapolis Star-Tribune

"What many of the stories have in common is startlingly ingenious writing and a note of what could be called sprightly heartbreak. There is an offhand jauntiness in telling terrible things."
Richard Eder, The Boston Globe

"Horrocks writes 11 accomplished short stories, each achingly observant and witty. . . . A bravura debut."
Vikas Turakhia, Cleveland Plain Dealer

"Plimpton Prizewinner Horrocks effortlessly navigates the comedy and bewilderment of being middle class without an ounce of condescension, martyrdom, or sensationalism. In Going to Estonia," a daughter of Lapland reindeer farmers escapes her fruitless future by attending university in southern Finland, while the American couple on a restorative vacation away from their handicapped son in In the Gulf of Aden, Past the Cape of Guardafui" is held hostage by a crew of Somali pirates and forced to face their true feelings about the future. In At the Zoo," as a mother ponders her tenuous relationship to her father and his to her young son while on an afternoon outing to the zoo, Horrocks inhabits the child, mother, and grandfather with an even hand, rounding out each character's fears and desires. Describing the blue-collar grandfather, she writes, He is proud to not be vain, although he knows that is its own kind of vanity," and the boy has a terrible realization: He'd begged for the zoo, and the zoo is a terrible place." It's a standout story in a stellar collection, the perfect example of Horrocks's ability to create an authentic and thoughtful narrative of honesty and hurt and hope."
Publishers Weekly, starred review

"This debut collection moves from the Midwest to Russia, Greece, Estonia, and a cruise ship off the coast of Africa. Most of the main characters are women, mostly young and naive, who find themselves in situations they can't comprehend. Many, like the woman in the title story and another on vacation at a Greek seaside resort (The Lion Gate"), have entered into a foreign culture or an unfamiliar situation, leading to misunderstanding, alienation, and a deepening sense of psychological confusion. The woman in the story Embodied" has an absolute belief in her sense of reincarnation and in identifying past lives of others, which leads to a tragic occurrence. In Zolaria," a woman recalls her childhood and a close friendship with a neighbor who contracted cancer and died. VERDICT The author has a fine eye for detail in description and scene setting and moves the story lines along jaggedly so the reader is caught off guard and disoriented like the characters. Many of the stories are bleak, painfully and realistically detailing lives gone awry, to sometimes disturbing effect. Recommended for savvy fiction readers."
Jim Coan, Library Journal

"Ultimately, what is so impressive about This Is Not Your City, in addition to the rare wisdom and precisely observed behavior, is the thematic unity on par with a great concept album, or a novel-in-stories. . . . As satisfying as each piece is by itself, they become more so amid layers of thematic connections. The author explores alienation and uncertainty with consistent nuance. The stories echo one another while moving forward into new territory, echoes that, in a different form, might sound more like repetition."
J.T. Hill, Bookslut

"How can a first book arrive with such advanced understanding of all the beautiful and sometimes shaded echelons of hope in which we live our lives? Caitlin Horrocks is a stunning writer and these stories mark a brilliant debut. She knows language and she knows people and I am grateful for this book."
Ron Carlson

"This is Not Your City is a spooky, lovely book by an almost unbelievably versatile, self-assured, and talented young writer. Caitlin Horrocks is a writer to remember; This is Not Your City is a book impossible to forget."
Brock Clarke, author of Exley and An Arsonist's Guide to Writers' Homes in New England


"The world of This Is Not Your City is a place of graceful extremes. Ravenous for love, for connection, for family, characters race into one another's arms, only to find more sorrow and more joy than they had imagined possible. Humor and grief braid tightly through these searching stories, and Caitlin Horrocks' vision is always lovely, often wrenching, and always surprising."
Erin McGraw

Caitlin Horrocks is that literary phenomenon: a master storyteller. This Is Not Your City is smart, entertaining, and emotionally mesmerizinga superb, daredevil immersion steeped in grace.
Melissa Pritchard, author of Disappearing Ingenue and Late Bloomer
Sarabande Books, 9781932511918, 224pp.
Publication Date: June 28, 2011
About the Author
Caitlin Horrocks lives in Michigan, by way of Ohio, Arizona, England, Finland, and the Czech Republic. Her stories have appeared in The PEN/O. Henry Prize Stories 2009, The Pushcart Prize XXXV, The Paris Review, Tin House, and The Southern Review. Recently, she won the $10,000 Plimpton Prize from The Paris Review. She teaches at Grand Valley State University.