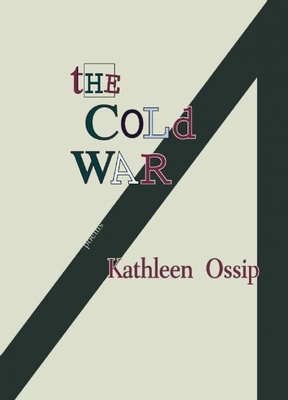 The Cold War (Paperback)
Sarabande Books, 9781932511956, 77pp.
Publication Date: May 17, 2011
Description
Formally energetic poems grapple with a 20th Century hangover in this bracingly intelligent second collection.
About the Author
Kathleen Ossip: Kathleen Ossip is the author of "The Search Engine," which was selected by Derek Walcott for the APR/Honickman First Book Prize and nominated for a "Los Angeles Times Book Prize," and of "Cinephrastics," a chapbook of movie poems. Her poems have appeared in "The Best American Poetry, Paris Review, Kenyon Review, American Poetry Review, The Washington Post, Fence, The Believer," and "Poetry Review" (London). She teaches at The New School in New York, where she is Editor-at-Large for "LIT," and the Poetry Editor of "Women's Studies Quarterly." Ossip was born and raised in Albany, New York, in a large Italian-Irish family, and now lives outside of New York City with her husband and daughter.
Praise For The Cold War…
Ossip's long-awaited second book is a surprising poetic powerhouse that interweaves the personal and the political in ways that are as aesthetically exciting as they are emotionally rich. The book opens with a jumpy ode on melancholy that takes off, as two of the best of these poems do, from a hefty quote from a weighty book (in this poem's case Karl Menninger's The Human Mind) and the words In those days": Melancholia, we cherished," writes Ossip, and, later, The intellect's/ a pissy thing, a fortress." Here and elsewhere, Ossip deftly mixes linguistic registers in poems that blend aspects of confessional writing, social and literary criticism, and history. The book's centerpiece is the traumatized, post-9/11 Document," a long series of sentences and fragments that attempt to manage an unshakable feeling of danger: Put space between you and the attack. Oh fruity word!" Or the centerpiece might be the essay/ poetic sequence/ tribute called The Nervousness of Yvor Winters," which takes off from Winters's life and work to finally ask the question, Do we want to understand poems, or do we want poems that understand us?" The book gains other dimensions from further sequences and prose fables, such as The Deer Path," in which One deer sped by in a small, trucklike vehicle and shouted FUCK! at me through the open window in an unmistakably cruel way." Ossip is about to take the poetry world off guard with what is surely among the most various, powerful, and representative (of post-terror America) poetry collections of the past few years. (May)
Publishers Weekly, starred review

Ossip's pieces invite our understanding, while her refusal to make wholes defies it; that defiance, too, belongs to our time."
Stephen Burt, The Nation

Ms. Ossip conjures delightful and unexpected muses in this socio-poetical exploration of post-World War II America, taking as her starting points Karl A. Menninger, who wrote The Human Mind"; Vance Packard, author of The Status Seekers"; and that scalawag of orgone energy, Wilhelm Reich. In this shrewd and ambitious work Ms. Ossip participates in a very old-fashioned sport, parsing the American mind through the filter of cold war paranoia.
Dana Jennings, The New York Times

A book of impressive breadth, The Cold War, for all its sprawling forms and unexpected source texts and materials, also communicates the poet's emotional relationship to her country and her art."
American Poet

Ossip's book is a rebuke to the idea that politics and the personal can't be fruitfully combined in poetry.
Anis Shivani, Huffington Post
Advertisement