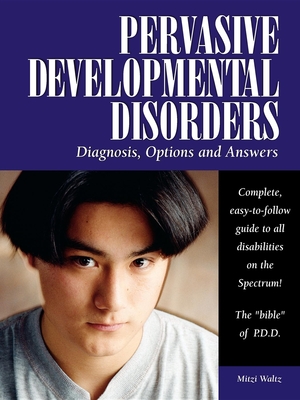 Pervasive Developmental Disorders
Diagnosis, Options and Answers
Paperback

* Individual store prices may vary.
Description
Pervasive developmental disorders (PDDs) include autism and a range of other neurological disorders. While at least 250,000 Americans have been diagnosed with PDD-NOS-one-third of whom are children-twice as many may remain undiagnosed or misdiagnosed. Parents of a young child with undiagnosed PDD may suspect any number of things, from autism to severe allergies. Pervasive Developmental Disorders: Diagnosis, Options and Answers is for parents (or newly diagnosed adults) who struggle with this neurological condition. Medications, therapies, and educational techniques can address symptoms and improve the lives of people with PDD. In some cases, the results can be spectacular. Weaving in a range of stories from parents who are raising children with PDDs, author Mitzi Waltz covers topics such as: . Getting a diagnosis, including preparing for a diagnostic interview in a medical, psychiatric, or school setting, with descriptions of all diagnostic tests and checklists/questions used by professionals .Treatment options such as: medications and supplements; sensory integration; occupational, physical, and speech therapy; behavior modification; "floor time" play and talk therapy; and parenting techniques . Coping with diagnosis and treatment, including emotions and support systems, insurance, and educational plans.
Future Horizons, 9781932565003, 390pp.
Publication Date: September 1, 2003
About the Author
Mitzi Waltz has been a professional journalist, writer, and editor for ten years, covering a range of topics from computers to domestic spy operations. She is the parent of a son diagnosed with PDD-NOS and other neurological problems. The first seven years of trying to solve the puzzle of her son's illness required all her research skills, and brought her into contact with top researchers in the field. She has been heavily involved in parent support work, both face-to-face and online, and has done a great deal of advocacy work in the medical, insurance, and education systems.

"I know from my advocacy work that there are thousands of families like mine out there, looking for answers but finding only a few pages in a neurology text, or perhaps a paragraph or two in a book about autism. Most parents are not trained researchers, and most would be afraid to cold-call a researcher at the National Institutes of Health or to challenge a school psychiatrist's incorrect assessment. I hope that my willingness to do so can help others better understand these disorders and how to treat them," says Mitzi.