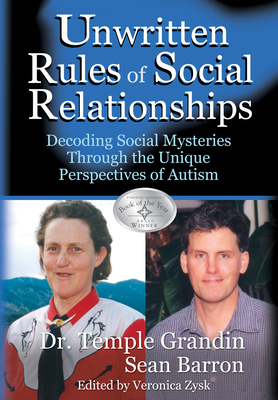 The Unwritten Rules of Social Relationships (Hardcover)
Future Horizons, 9781932565065, 383pp.
Publication Date: December 1, 2004
* Individual store prices may vary.
Description
Silver Award Winner in the 2005 ForeWord Book of the Year Awards Born with autism, both authors now famously live successful social lives. But their paths were very different. Temple's logical mind controlled her social behavior. She interacted with many adults and other children, experiencing varied social situations. Logic informed her decision to obey social rules and avoid unpleasant consequences. Sean's emotions controlled his social behavior. Baffled by social rules, isolated and friendless, he made up his own, and applied them to others. When they inevitably broke his rules, he felt worthless and unloved. Both Temple and Sean ultimately came to terms with the social world and found their places in it. Whether you are a person with autism, a caregiver in the autism community, or just someone interested in an outsider view of society, their powerful stories will enthrall and enlighten you. Helpful sections include: Two Perspectives on Social Thinking Two Minds: Two Paths The Ten Unwritten Rules of Social Relationships, which include: Rule #1: Rules are Not Absolute. They are Situation-based and People-based Rule #2: Not Everything is Equally Important in the Grand Scheme of Things Rule #3: Everyone in the World Makes Mistakes. It Doesn't Have to Ruin Your Day. Rule #4: Honesty is Different than Diplomacy Rule #5: Being Polite is Appropriate in Any Situation Rule #6: Not Everyone Who is Nice to Me is My Friend Rule #7: People Act Differently in Public than They Do in Private Rule #8: Know When You're Turning People Off Rule #9: Fitting in is Often Tied to Looking and Sounding Like You Fit In Rule # 10: People are Responsible for Their Own Behaviors.
About the Author
As a child, Temple Grandin could not speak. Her silent existence was broken only by rhythmic rocking and occasional fits of screaming and thrashing. Diagnosed with autism, Temple's many caregivers eventually helped her contradict her doctors' morbid predictions and go on to become one of the autism community's most beloved success stories. Temple Grandin, PhD, is a popular international lecturer on autism and the author of" Emergence: Labeled Autistic," "Thinking in Pictures," "Animals in Translation," and "Unwritten Rules of Social Relationships." One of the world's leading experts in livestock facility design, over half of the cattle in North America are handled in facilities designed by her. She credits her visual thinking and her systemizing mind, both characteristics of autism, for her ability to be "the woman who thinks like a cow." Temple continues to be an inspiration and role model to millions.

Sean Barron is a very interesting and intelligent young man who has faced the challenge of autism. He and his mother wrote an insightful book on their lives together. "There's a Boy in Here "has won many accolades for offering the unique perspectives of two people who look at the same world but see and feel entirely different things. Mr. Barron has progressed to the point that it is difficult to even realize that he once was truly impacted by autism/Asperger's Syndrome. He is now a freelance writer, lives independently, and recently co-authored "Unwritten Rules of Social Relationships "with Dr. Temple Grandin. Sean is a graduate of Youngstown State University, and works as a reporter for the Youngstown Vindicator. He's pursuing a second degree in journalism.

Veronica Zysk has been working in the field of autism since 1991. She served as Executive Director of the Autism Society of America from 1991-1996, and then joined Future Horizons as Vice President of Administration. Veronica moved into an editorial position within the company in 1999, as Managing Editor and visionary for the first national magazine on ASD, the "Autism Asperger's Digest," winner of several Gold awards for excellence. She continues in that position today. An award-winning book author, Veronica co-authored with Ellen Notbohm, "1001 Great Ideas for Teaching and Raising Children with Autism Spectrum Disorders," a Learning Magazine 2006 Teachers' Choice Award winner, and has been the editorial driving force behind several collaborations with Dr. Temple Grandin: "Unwritten Rules of Social Relationships," winner of ForeWord magazine's prestigious Book of the Year Silver Award and Dr. Grandin's most recent autism release, "The Way I See It," based on columns written for the Digest magazine.
Praise For The Unwritten Rules of Social Relationships…
"If you've ever wondered, 'What is going through my child's mind? Why can't he get social interactions?' then this book is for you! 'A-ha!' moments abound."
Veronica Zysk, editor of Autism/Asperger's Digest and this book, both published by Future Horizons.

 
"I wish I had this book when Sean was a child. It would have helped me understand Sean so much more."
Judy Barron, co-author of There's A Boy In Here and mother of author Sean Barron.
 
"I would love to have the ten rules from page 119 as my screensaver!"
Lindsi Cavender, Person with Asperger's Syndrome
 
or
Not Currently Available for Direct Purchase