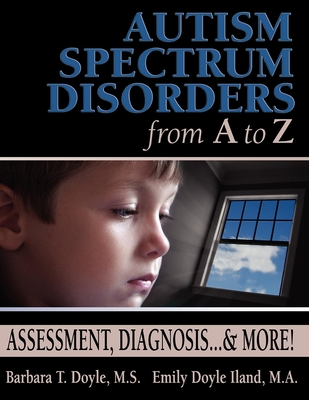 Autism Spectrum Disorders from A to Z (Paperback)
Assessment, Diagnosis... & More!
Future Horizons, 9781932565072, 462pp.
Publication Date: January 1, 2004
* Individual store prices may vary.
Description
Awarded the Exceptional Parent Symbol of Excellence
This extremely comprehensive book goes step-by-step through the symptoms, definitions, assessments, and diagnoses of Autism Spectrum Disorders (ASD). The authors describe ASD in terms of the parents, teachers, the school system, medical professionals, adult service providers, and private agencies involved. In addition to revealing what parents and professional can expect, this book also provides practical strategies to improve the assessment process and help the child or adult deal with the stress of the evaluations. Finally, they tackle the controversial issues surrounding the causes of ASD and available treatment options.
Helpful sections include:
Understanding Autism Spectrum Disorders (ASD) The Diagnostic Process Characteristics of ASD The Role of the School System The Role of the Parent
And so much more
About the Author
Barbara Thompson Doyle, MS, is a special education professional with over thirty years of experience in developmental disability services. A consultant in private practice, she is well known and respected for her practical and positive approaches to addressing the needs of children and adults with disabilities. As an enthusiastic lecturer, teacher and trainer, Ms. Doyle travels extensively to bring her holistic, humane and effective approaches to others. Ms. Doyle is "Aunt Barbara" to Tom Iland, who has an autism spectrum disorder (ASD).

Emily lives in Santa Clarita, CA, with her husband Steve and their family. In "Autism Spectrum Disorders from A to Z, " she draws on her experiences advocating for her son Tom who has ASD, and assisting other families. Emily's co-author is her sister, Barbara Doyle, who shares her perspective as an educational professional and autism specialist.

Emily translated their book into Spanish and published the Spanish version in June, 2005. "Los Trastornos del Espectro de Autismo de la A a la Z "is the winner of the 2006 Outstanding Literary Work of the Year from the Autism Society of America. In April, 2007 both books were awarded the Exceptional Parent Magazine Symbol of Excellence Award.

Emily is a member of the Transition Task Force of the California Blue Ribbon Commission on Autism and will be providing data from her thesis to inform the Commission's legislative recommendations. She is the Secretary of the Autism Society of America, Los Angeles, and a founding member of SCAAN, Santa Clarita Autism Asperger Network. Emily is a founding member of C.L.E.A.R, Community and Law Enforcement Aware Response, a collaborative to reduce criminal involvement of people with disabilities and help law enforcement officials be informed in their response to people with special needs.
Praise For Autism Spectrum Disorders from A to Z: Assessment, Diagnosis... & More!…
"What do you get when you combine experience, impeccable research and common sense into a new book for people with autism spectrum disorder (ASD), their parents, and professionals who work with them? Autism Spectrum Disorders from A to Z, by Barbara Doyle and Emily Iland. A product of passion, punctuated with case studies of real life experiences and presented in an easy-to-read format, this is a must have book for every parent and professional new to ASD—and for those that have been around the block a few hundred times!"
Dennis Debbaudt, author of Autism, Advocates and Law Enforcement Professionals

 
"This is a masterpiece! Every parent and professional connected to a person with ASD will treasure the encyclopedic knowledge available in ASD from A to Z. Doyle and Iland have anticipated all the questions that might arise—from diagnosis through adulthood—in the life of a person with ASD. The information you need is presented with deep caring. It is as if a good and wise friend is there to guide you."
Nancy Margulies, Counseling Psychologist, Award-winning educational author of Mapping Inner Space and Map It!, Maps Mindscapes and More, Brian's Brain, and Magic Seven

 
"Now the information that only a few 'experts' had access to is available to everyone. The various therapies and assessments are meshed into a readable, comprehensive whole. Parents will love this book! Thank you, Emily and Barbara!"
Rebeca Zavaleta, mother of a ten-year-old daughter with ASD