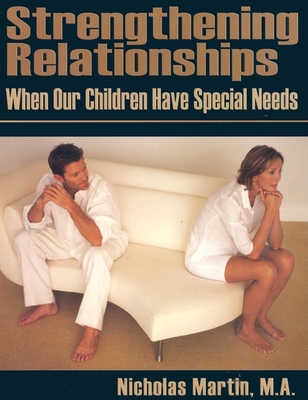 Strengthening Relationships (Paperback)
When Our Children Have Special Needs
Future Horizons, 9781932565102, 159pp.
Publication Date: March 1, 2004
Other Editions of This Title:
Paperback, Spanish (1/1/2006)
* Individual store prices may vary.
Description
Winner of an iParenting Media Award When there is a child with special needs in your family, it can be easy to overlook your own needs, desires, and dreams, or those of the ones you love. Long-awaited and much-needed, this book addresses the real-life impact a special needs child has on family relationships. Author Nick Martin gives well-researched and heartfelt advice on avoiding the blame game, finding support and guidance for all family members, managing financial challenges, improving communication, sharing responsibilities, being intimate, and more. Stories and testimonies from real couples further validate Nick's sound advice. Taking the time to repair and strengthen your family's relationships will benefit all involved.Helpful chapters include: Avoiding BlameSupport and GuidanceAffordable Child CareMoney MattersTime AloneEffective CommunicationChild Rearing and DisciplineSex, Affection, and IntimacyPotentials.
About the Author
Nicholas Martin, MA, graduated from the University of Pennsylvania with a BA in Psychology and then attended the University of Hartford, where he graduated with a Master's degree in Clinical Practices. After many years as a juvenile court psychologist, outpatient mental health counselor, and dispute mediator, he has come to focus increasingly on IEP collaboration and conflict reduction in special education. Founder and President of the nonprofit organization The Center for Accord, he is currently a staff development and conflict resolution specialist, working as a mediator between families and schools to make sure everyone's needs are met as practically and positively as possible. He provides seminars and workshops nationwide to thousands of special needs educators and families, in both English and Spanish.
Praise For Strengthening Relationships: When Our Children Have Special Needs…
"Beautiful book! What a wonderful resource for parents—warmly, clearly, and powerfully stated. You are presenting a very comprehensive list of key issues parents face. For that alone, your book will be useful!"
Kate Scorgie, Ph.D., Associate Professor of Graduate Education, Azusa Pacific University, San Diego, California

 
"In my years of searching for information to prepare me for raising a child with a disability, I found little or no resources available. Most of what I did find was for professionals and not parent friendly. Nick Martin's book is an enlightening view of the true impact of having a child with a disability and how to deal with it. I needed that book!"
BeLinda Henson, Coordinator, Parent Resource Center, Franklin County Public Schools, Frankfort, Kentucky