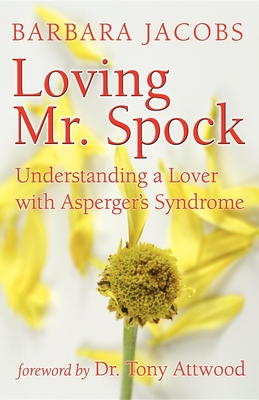 Loving Mr. Spock (Paperback)
Understanding a Lover with Asperger's Syndrome
Future Horizons, 9781932565201
Publication Date: November 1, 2004
* Individual store prices may vary.
Description
As a popular advice columnist in the UK, Barbara Jacobs never suspected she'd be the one needing the relationship advice. But when she fell in love with Danny, a man with Asperger's Syndrome, she quickly learned to expect the unexpected. In this book, Barbara candidly delves into the dynamics of their relationship. She lovingly compares Danny to Mr. Spock, a character who thrives on logic rather than emotion, while admitting that she was quite opposite. Join Barbara and Danny on their tumultuous journey in love, and learn about Asperger's along the way through figures, diagnostic guidelines, quotes and surveys by other couples, and more. If you love someone with Asperger's, or have Asperger's yourself, you can learn a lot from this book. Note: This book addresses some mature topics.
Helpful chapters include:
The Handsome Stranger Syndrome First Steps in a Parallel Universe Other-wired Bringing Up Baby A Working Model Breakthrough Nuts and Bolts
About the Author
Barbara Jacobs is a psychologist, broadcaster, and lecturer. She is the author of eight novels for young adults, including the prizewinning, "Stick." As one of the most respected advice columnists in the UK, she has written regular columns for many national newspapers and magazines including "Good Housekeeping," "Now," and "Good Health." Barbara lives in Liverpool and has a son, Luke.
Praise For Loving Mr. Spock: Understanding a Lover with Asperger's Syndrome…
"A searingly honest account of the difficulties faced when people who are differently wired come together!"
David Potter, National Autistic Society
 
"It is a must for all those with an autism spectrum disorder in their midst!"
Christopher Gillberg, Advisor to the World Health Organization

 
"When Barbara met Danny, she immediately recognized that he was not a typical young man and certainly not her equal in terms of social understanding. . . . Danny found in Barbara his mentor, social interpreter and someone to mother and father him. . . . The story of their relationship is written in the style of a conversation between the author and the reader as though you are best friends. Barbara discovers Danny's diagnosis after she fell in love with him, and her journey of exploration, of a parallel universe inhabited by those similar to Mr Spock, who prioritize logic and facts over emotion and intuition, is a fascinating and entrancing story. The reader will become knowledgeable in the nature of Asperger's Syndrome, not only from reading about Barbara's observations, insight and experiences but also from reading her review of the academic literature and the quotations from other adults with Asperger's Syndrome. She has also conducted a small survey of couples where one partner has Asperger's Syndrome to compare experiences, and provide a list of resources for more information and support. . . . Those who have Asperger's Syndrome will also value Loving Mr Spock."

 
or
Not Currently Available for Direct Purchase